Go deeper into your Life Journey and InterPlay Practice by learning the Secrets of InterPlay.
Secrets of InterPlay in Kansas City
Amy Shoemaker
and
Devi Wetterer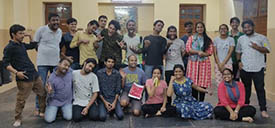 Westwood, KS
Thursday evening March 24 thru Sunday March 27, 2011.
The Secrets of InterPlay in Kansas City starts Thursday evening March 24 and ends on Sunday evening March 27.
Learn how you can use the tools and ideas of InterPlay to unlock the wisdom of your body. Get your body, mind, heart and spirit all on the same page. Learn more about yourself through connection and community. Create more ease and fun in your life. This multiple-day event will give you direct experience in many aspects of the InterPlay system. It is also an important element of the InterPlay Life Practice Program which will be offered in Kansas City beginning on May 20, 2011 for 4 months and ending on August 21,2011.
Schedule
(currently being finalized)
Thursday 7-9 pm
Friday 1:00 pm–7:00 pm
Saturday 1:00 pm–7:00pm
Sunday 9:30 am–4 pm
Cost:

$350.00 / $250 for retake. (The Secrets is a part of the Life Practice Program and is included in the full tuition.)
Registration/Information:

For registration contact Stephanie at InterPlayce at 510/ 465-2797. Contact Devi Wetterer for details at 816-830-7778 or email at d.light18@gmailcom.

Venue
Plaza Wellspring
1900 W. 47th Place Rm 328
Westwood, KS 64112
Plaza Wellspring is located at the NW corner of W 47th Place and Stateline.
Leaders
Amy Shoemaker
Amy is the Bay Area Regional Coordinator for InterPlay, an InterPlay teacher, Wing It! Member, and Spiritual Director living in San Francisco. She discovered InterPlay as a student at Pacific School of Religion and immediately took to it - like a fish to water. Amy is available for workshops and retreats nationwide.
Devi Wetterer
Devi enjoys leading and sharing her passion for InterPlay since discovering this art in 2008. She completed the Life Practice Program at InterPlayce in Oakland and Leaders Training in 2009. Since her return to the Midwest, Devi organizes InterPlay Untensives/ Life Practice Program as well as leads weekly/monthly playgroups for adults, intergeneration, youth and disabilities in Missouri and Kansas. She also practices Physical Therapy at a variety of clinical settings and is on the Board of Kutumba, a non-profit organization for the Arts and Self Awareness serving youth and the Next Generation. Devi considers InterPlay as meditation in motion which allows participants to connect more deeply with their body, soul and heart moving from the inside out. Play is where I find beauty and grace. Life is a Dance. Learning to blend the myriad experiences of life with acceptance and grace allows you to move forward with greater ease and rewarding results. This is the artistry and gift of InterPlay.