Movement calls forth embodied wisdom, ease, and joy! Stillness breathes us.
Movement Alchemy
Connection, Freedom, Wisdom and Transformation through Movement and Awareness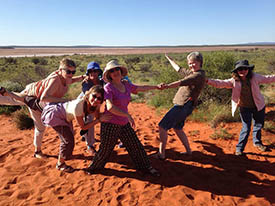 Kalamazoo, MI
Contact Barbara to schedule private or group sessions.
Individual sessions incorporate InterPlay, Creative Movement and Authentic Movement to call forth body wisdom and inspire change and healing.
Cost:

To be determined at scheduling. First session free.
Registration/Information:

Barbara Toshalis at 269/365/0313 or btoshalis@gmail.com

Leaders

Barbara K. Toshalis

Barbara has moved and danced in response to an inner spirit, music and Creation most of her life. As a spiritual director and InterPlay Leader she offers SoulPlay to individuals and groups in Michigan. SoulPlay deepens and transforms our bodyspirits, offering healing and joy through play and awareness in movement and stillness.