Second Saturday InterPlay!
2nd Saturday of every month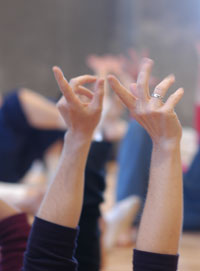 ONLINE
Second Saturday of each month, 10 a.m.-11:30 a.m EST
Join in a community of joyful players the second Saturday of each month! New and experienced InterPlayers come together to celebrate, connect, and play with the stuff of life. Song, movement, story and stillness are honored in an affirming environment of trust and exploration.
Cost:

$10, more if you can, less if you can't Paypal to atlantainterplay@gmail.com
Registration/Information:

atlantainterplay@gmail.com

Leaders

Jennifer Denning

Jennifer is keenly interested in using the InterPlay forms to promote racial justice and healing and collaborates in developing and leading the worskhops Sankofa Communities and Using Body Wisdom to Build Just Communities. She directs InterPlay Atlanta's performance group, Soulprint Players. She launched InterPlay Atlanta's programming with women in prison and teaches regularly at Trinity House and The Friendship Center. Jennifer has also worked as a professional actor and currently teaches and directs with Synchronicity Theatre's "Playmaking For Girls" program. Her work has long centered on the intersection of creativity and spirituality. Jennifer serves on the Body Wisdom Board of Directors and InterPlay's Racial Equity and Transformation committee.