Change your Practice ~ Change your Life!
Life Practice Program for BIPOC 2020 - 2021 Online
For those who identify as Black, Indigenous, or Persons of Color
Coke Tani
,
Kira Allen
, and
Lois McClendon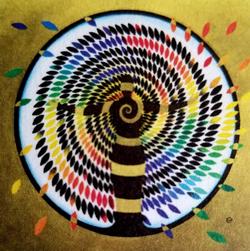 ONLINE
October 2020 - May 2021
Saturdays 10:00 am—12:30 pm
& 2:00—4:30 pm PST
Experience directly the value of creativity, playful physicality, and open and accepting connections. Take this year to claim your right to play in life-changing and deep ways by attending a Secrets of InterPlay retreat, monthly group sessions, and a finale that you will never forget.
(This program is for those who identify as Black, Indigenous, Persons of Color.)
Each month, you will get an embodied experience of one of the 8 InterPlay Tools: Easy Focus, Body Data, Internal Authority, the Physicality of Grace, Exformation, Body Wisdom Practices, Incrementality. and Affrmation. You'll unlock energy and insights through movement, word, voice, and interconnection at many levels.

Cultivate inner authority and going the speed of the body in the lively, creative, nourishing balm of a Black, Indigenous and People of Color (BIPOC) Community devoted to unlocking the wisdom of our bodies.

The Elements of the BIPOC Life Practice Program

This program begins with The BIPOC Secrets of InterPlay where you will be immersed in the InterPlay philosophy and practice. This can be taken as a stand alone retreat or to help you determine if you would like to enroll in the entire BIPOC Life Practice Program.

The BIPOC InterPlay Life Practice Program (LPP) is an opportunity to dive deeper into the practice with a supportive community one Saturday a month for 8 months.


The Schedule: SATURDAYS 10:00 am—12:30 pm & 2:00—4:30 pm
October 31st
November 21st
December 12th
January 23rd
February 27th
March 27th
April 24th
May 22nd.


Financial Assistance
Based on our commitment to Racial Equity and Transformation (read our statement here) and our understanding of other structural and personal inequalities that exist, Body Wisdom is committed to making our programs financially accessible.
Financial considerations need not be a barrier to your participation. Financial support and flexible payment plans are available. Please email Stephanie@interplay.org (or call 510/465-2797), or feel free to speak to one of the leaders of this program.


Continuing Education Credit
40 CE credits for various healthcare and allied healthcare professions are available for those practicing throughout the U.S. and for educators only practicing in Illinois. CE pre-registration is required before the start of your event. Email Jane Siarny at interplaychicago@sbcglobal.net to APPLY for CEUs. There is a charge of $25-$40 per program. CEUs are offered through Continuing Education Institute of Illinois or R. Cassidy Seminars.

Repeating the Program
Anyone who has previously completed the Life Practice Program is eligible for the $1,000 repeaters rate.

Artwork by Gaia Orion


Cost:

Special $300 discount: $1,950 (includes tuition for Secrets of InterPlay) / $1,000 for repeaters
Registration/Information:

Registration questions: email Lucia@interplay.org. For financial assistance: email Stephanie@interplay.org.

Leaders

Coke Tani

Coke Tani, is a movement and literary artist, spiritual companion, and teacher/facilitator. In addition to having co-led the Secrets of InterPlay & Life Practice Program, Coke served as InterPlay's first Liaison to Leaders of Color, where she introduced the expansion of InterPlay forms for embodied anti-racism education, and co-created InterPlay's first BIPOC Daylong Retreat. Currently, Coke leads InterPlay in communities of color and faith-based settings, as well as in 1:1 focus sessions, She serves on InterPlay's Racial Equity and Transformation Committee, and also leads weekly Dance Chapels through The Hidden Monastery. In former years, Coke was a community-based therapist and solo theater artist. She holds an MSW, MFA and MDiv.

Kira Allen

This Certified InterPlay leader is an author, collage artist, activist, advocate, and facilitator who specializes in working with Black, Indigenous, People of Color and Queer communities. She holds an M.A. in Transformative Arts from John F. Kennedy University, and a B.A. in English/Creative Writing from Mills College. Bearing witness to her own traumas and triumphs through a wide variety of modalities inspires her work with participants of all ages in: classrooms, homeless shelters, churches, non-profits and intimate circles inside people's homes. Ms. Kira cultivates sacred creative spaces invoking all her experiences to empower marginalized communities. Her poetic memoir, Write This Second, was republished in April of 2019 and can be ordered through any local independent bookstore.

Lois McClendon

Lois "Toni" McClendon (she/her) is a Storyteller in the African American Oral Tradition, as well as a peace & social justice activist. Toni serves on the Board of Body Wisdom as Secretary. She is a Life Practice Program Leader and a Certified InterPlay leader from Pittsburgh PA USA. Always walking the Beauty Way, Toni believes in building Bridges to Unterstanding between people of all ages from around the world. She is totally committed to Racial Equity and Transformation and strives to emodying the principles and practices of InterPlay in her life's work.Toni is also a member of ABAFASI, a women's West African-style drumming and performance group.