Playing with your Issues
One to One Focus Sessions
with CathyAnn Beaty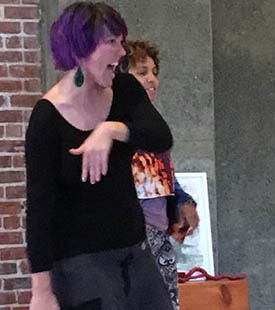 St Paul, MN
Any date and time convenient to both you and CathyAnn
Indulge yourself with an hour and a half session with CathyAnn using InterPlay forms to investigate issues, challenges, successes or anything else you want to research with a spirit of play.



SoulPlay founder CathyAnn Beaty facilitates consultation groups, workshops, classes and one to one focus sessions for helping professionals who want and need to move, to be affirmed and supported in their work and to have fun doing it. CathyAnn uses the InterPlay (interplay.org) technique to facilitate her clients in gaining more ease, creativity and peace in their life and work. They discover that often times "playing with" an issue can be more effective and less painful than "working on" it.

My name is CathyAnn Beaty and my passion is creating community where change and transformation happen in an affirming and supportive environment. I am committed to the wisdom of our living bodies, and how our body wisdom can guide us to our most authentic selves.

I am an InterPlay master teacher, dancer and visual artist. I have been practicing and teaching InterPlay for 25 years and teach nationally and internationally as well as leading groups through my Minneapolis based business SoulPlay. I specialize in working with helping professionals; especially therapists, clergy and spiritual leaders. I am an ordained minister in the UCC and was a parish pastor for 15 years.
Cost:

$125 for 1.5 hours
Registration/Information:

soulplayca@gmail.com or 952-212-1161

Leaders

CathyAnn Beaty

CathyAnn Beaty, MDiv, is a master InterPlay leader, dancer and visual artist. She has been working with ongoing groups of therapists, clergy and other helping professionals for the past 12 years through her business SoulPlay, www.soulplay.org and has developed new approaches to healing based both on her professional and personal experience. CathyAnn is an ordained minister and began her InterPlay journey in 1989 when serving as pastor at Spirit of the Lakes UCC. She got her Masters of Divinity at United Theological Seminary of the Twin Cities in 1984 and did her Clinical Pastoral Education at Hennipen County Medical Center in Minneapolis. She served three parishes over 15 years. CathyAnn leads the InterPlay Life Practice Program, The InterPlay Way, performance workshops, couples classes, mentors leaders in training and directs SoulPlay Performance Ensemble. She has taught InterPlay in India, Australia and around the United States.