"The beauty of playing together is meeting in the One."-Stephen Nachmanovitch
Spirit Play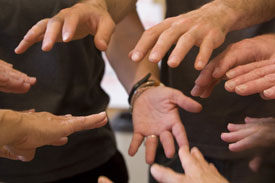 Decatur, GA
4th Friday of every month
Sitting meditation, spiritual text and poetry will provide the springboard for this time of deep play. What is the "big story" moving through your life? How do we practice partnership with that "something more"? The practice of InterPlay makes room for the fullness we each embody. InterPlay recognizes and playfully engages the challenging aspects of our humanity as well. Bring your full self out to play, explore, dream and rest through the easy forms of InterPlay.
Cost:

$12-15 sliding scale
Registration/Information:

atlantainterplay@gmail.com

Leaders

Jennifer Denning, MSW

Jennifer is keenly interested in using the InterPlay forms to promote racial justice and healing and has collaborated in developing and leading the workshops "Sankofa Communities" and "Using Body Wisdom to Build Just Communities." She directs InterPlay Atlanta's performance group, Soulprint Players. She launched InterPlay Atlanta's programming with women in prison and has taught regularly at Trinity House and The Friendship Center. Jennifer has also worked as a professional actor and taught and directed with Synchronicity Theatre's "Playmaking For Girls" program for over fifteen years. Her work has long centered on the intersection of creativity, spirituality and social justice. Jennifer currently works as a financial social worker, using financial education as one tool to advance economic equity. She delights in weaving deep breaths, InterPlay storytelling forms, and body awareness into her workshops. Jennifer is a former co-president of the Body Wisdom Board of Directors and a founding member of InterPlay's Racial Equity and Transformation committee.