We dance on behalf of one other to heal our peoples.
Chikondi: Healing Prayer for Our Ancestors
an offering from Masankho Banda and Cynthia Winton-Henry
Masankho Banda
and
Cynthia Winton-Henry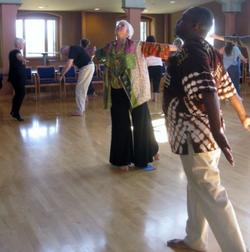 Oakland, CA
Sunday, May 17, 10-12:30
Chikondi is the Malawian word for Love. The Tree of Life is rooted in Love. That is the home of our ancestors. If you are willing to dance, breathe, and invoke Divine support you are welcome to this ritual time where we welcome the mystery of healing for our peoples by listening to the wisdom of the body through African Dance, Drum and the forms of InterPlay.

Masankho and Cynthia journeyed together for years, learning how to honor their ancestors. In he spirit of Chikondi they are now encouraged to guide others in healing our lineages.

You do not need to know who your ancestors are, where they came from or what they have done. You only need to be open to a healthy alignment flowing from those before you who long for your prosperity and well being. As Masankho says, "The ancestors are the largest group of the unemployed, so lets get them involved for our own good and the good of all."
Cost:

49. no one refused
Registration/Information:

Cynthia Winton-Henry cynthia@interplay,org. This is NOT a Body Wisdom Event.

Venue
InterPlayce
2273 Telegraph Avenue (at 23rd St.)
Oakland, CA 94612
InterPlayce is the center of the InterPlay universe. The offices for Body Wisdom, Inc. are also located here. The building is at the corner of 23rd and Telegraph, one block north of West Grand. It is just a few blocks from the 19th Street Downtown Oakland BART station, and on several convenient bus lines. On-street parking is always available at night and metered during the day. It is also easily accessible by several of the major freeways.
Click here for a map.
Leaders
Masankho Banda
Masankho is a multi - disciplinary Performing Artist, Certified InterPlay Leader, Educator and PeaceBuilder. He brings many unique perspectives to his work around the world. He learned the fine arts of storytelling and dance from his Malawian culture spending many long days and nights listening to stories and dancing to music that captivated his mind, shaped his being, nourished his soul and strengthened his spirit. Using performing arts Masankho motivates and inspires people of all ages to work together to bring about peace, social justice and cultural understanding. In 1997, he started UCanDanc—African Healing Arts to bring his passion for dance and storytelling to communities around the world. Masankho has been a Certified InterPlay Leader since 1999.
Masankho can also be reached at these phone numbers: +265 99 255 5338 or 88 113 8655 (available on Whatsapp / FaceTime)
Also: Skype : kamsisi
Facebook / Twitter: storytelling4u
Cynthia Winton-Henry
Cynthia Winton-Henry, co-founder of InterPlay with Phil Porter, has researched "what the body wants" in the arts, in jails, shelters, slums, hospitals, churches, businesses, classrooms, doctoral programs in theology and the arts, and in multicultural education. She develops somatic curriculums to address racism, leadership for the Earth, and spiritual intelligence with an eye to supporting millennials. A featured speaker on the Body Intelligence Summit and a keynoter at conferences, Cynthia is the author of What the Body Wants, Having It All: Body, Mind, Heart & Spirit Together Again at Last; Dance - A Sacred Art: Discovering the Joy of Movement as Spiritual Practice; and Chasing the Dance of Life: A Faith Journey. Currently writing on Body Wisdom and Social Justice and on "Ensoulment," she coaches leaders seeking spiritual intelligence for our time at cynthiawinton-henry.com.