Give your Friday night a lift and begin your weekend with a light heart!
InterPlay Lift
Taking off into the adventure of your body, mind, heart, & spirit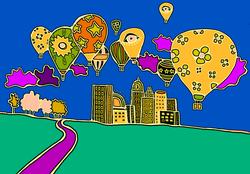 Decatur, GA
Friday 7:00 pm to 8:30 pm on the following dates: July 24th, August 28th, September 25th, October 23rd, November 20th, and December 18th.
Are you craving a different way of being in your life? Need a different perspective? Why not try laughing, moving, telling stories, experimenting with your voice, finding stillness, and connecting with yourself and others? Even if you are tired, come to rest, play, and find a new outlook in community. Everyone can do InterPlay! Once a month on a Friday night, "InterPlay Lift" – led by Ruth Schowalter – offers you the opportunity to explore "having it all." InterPlay is an improvisational system that uses all of your physical information while including your spirit, intellect, and feelings. Part of having it all is reclaiming your inner authority, the part of you that knows who you are, what you like, what you want, and what you know, in ways that honor your own life and experiences. Guided gently and respectfully, you will be given choices about moving, topics to talk about, how to play, and when to stop and be still. No previous experience is required. You will witness and be witnessed, practice noticing and affirming the good, and think about how to find more peace and less stress in your life. The InterPlay system accepts who you are right now—that you are enough! In this way, you are invited to experiment and play with expanding your range and seeing what you might discover. Even if you discover nothing, that's OK, too. InterPlay Lift is about gaining perspective easefully and joyfully. To understand InterPlay, you must do InterPlay. Come and find out how InterPlay might lift you up and give you a new outlook on life.
Cost:

$12 to $15 sliding scale, no one will be turned away because of a lack of funds
Registration/Information:

Contact Ruth Schowalter, Certified InterPlay Leader, 404/580-2392 or ruthtruth@mindspring.com

Venue
Decatur First Christian Church
601 West Ponce de Leon Avenue
Decatur, GA 30030
Ample free parking. Go to the second floor and class meets in the Jerusalem room.
Leaders
Ruth Schowalter
Ruth Schowalter, visionary folk artist, communications educator and creativity coach, started The Daily Creative Practice to insure that her own art, dreams, and creative ideas get priority. Within InterPlay, an improvisational system that unlocks the wisdom of the body, she found all the tools she needed to put grace and an ethic of play at the center of life.