The Art of Playing with Life
Deep Play with Devi Wetterer
Tapping Into our authentic expression, creative muses and inner authority.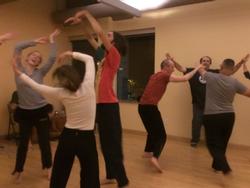 Westwood, KS
Monthly Ongoing Playgroup, Third Wednesdays at 7:00 - 8:45pm
Deep Play Come play, be emptied, be nourished in communal artistry that includes lighthearted, improvisational movement, spontaneous play, stillness, and story telling mixed with silliness and reverence. The InterPlay, international movement is a holistic, creative, easy approach and practice designed to facilitate individual/communal play and delight in your ability to move, create and have your voice Simply put InterPlay is described as going out to a bar, going to church and to the gym all at the same time or a "Sanctuary of Expression". Expect to dance with merriment, laugh out loud, discover your authentic expression and be surprised how easy it is. You will be serenaded by musicians, improvising energetic and soothing sounds to elicit playfulness, imagination and human heartedness. Every Third Wednesday of the month from 7:00 to 8:45pm Join us for a joy filled and soulfully moving evening--be refreshed, alive and surprisingly at ease. No experience necessary, just an open heart and willingness to play. Fee—Sliding Scale-$10.00 - $15.00, no one turned away for lack of funds. Leader Devi Wetterer is exuberant, happy and playful with much to offer youth and adults in the areas of self-expression, creativity and movement.. She brings her passion for social artistry, performance art and improvisational play as an Artist, Poet, Dancer and Playgroup leader. Devi, a Physical Therapist and Healing Arts Specialist for over 30 years, completed her InterPlay Leadership Training in Oakland, California in 2009, and leads inter-generational and adult playgroups in Kansas City and regions. Her background in the healing arts led her to the discovery of her hidden talents for improvisation, dance and embodied movement for individual and communal transformation. She is founder of Leela Village, an enrichment program for preschoolers and youth based on spontaneous play and art related activities. Musician Corey Davis, drums and other instruments
Cost:

Sliding scale $10-15.00, no one turned away for lack of funds
Registration/Information:

Devi Wetterer 816/830/7778 d.light18@gmail.com

Leaders

Devi Wetterer

Devi enjoys leading and sharing her passion for InterPlay since discovering this art in 2008. She completed the Life Practice Program at InterPlayce in Oakland and Leaders Training in 2009. Since her return to the Midwest, Devi organizes InterPlay Untensives/ Life Practice Program as well as leads weekly/monthly playgroups for adults, intergeneration, youth and disabilities in Missouri and Kansas. She also practices Physical Therapy at a variety of clinical settings and is on the Board of Kutumba, a non-profit organization for the Arts and Self Awareness serving youth and the Next Generation. Devi considers InterPlay as meditation in motion which allows participants to connect more deeply with their body, soul and heart moving from the inside out. Play is where I find beauty and grace. Life is a Dance. Learning to blend the myriad experiences of life with acceptance and grace allows you to move forward with greater ease and rewarding results. This is the artistry and gift of InterPlay.