Most chapels pause August 17-28, except for Tuesday 4:30 and Thursday 9:30
InterPlay Online Dance Chapels
A place to hold sacred the Wisdom of your Body
Nancy Pfaltzgraf
,
Cynthia Winton-Henry
,
Jane Siarny
,
Ruth Schowalter
,
Monisha Mittal
,
Rehana Tejpar
,
Greer Dokmanovic
,
Stephanie Gesling
,
Kaira Jewel Lingo
,
Coke Tani
, and
Bilha Birman Rivlin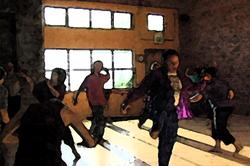 ONLINE
All times are Pacific Standard
Monday, 7 am with Kaira Jewel, Monday-Thursday at 4:30 pm pst
Tuesday-Friday at 9:30 am pst, Friday 2 Shabbat Chapel with Bilha
In need of prayer, community, or support?

Join a little hidden monastery of the heart for an hour. Bring a candle to light.
You can expect to
Breathe and warm-up your dancing, singing spirit.
Invoke intentions for family, community, and world. 
Notice your body wisdom: move, share and integrate it.
Reboot grace and gratitude for your week.
Hear and share poetry and music.
Dance on behalf of others in the group.
Connect to others in the group and receive resources.
Chapel Schedule & Leaders
Monday 7:00 am pst with Karia Jewel Lingo
Monday 4:30 pm pst with Cynthia Winton-Henry
Tuesday 9:30 am pst with Rehana Tejpar
Tuesday 4:30 pm pst with Stephanie Gesling and Greer Dokmanovic
Wednesday 4:30 pm pst with Ruth Schowalter
Thursday 9:30 am pst with Nancy Pfaltgraf
Thursday 4:30 pm pst with Coke Tani
Friday 9:30 am pst with Monisha Manning
Friday 2:00 pm Shabbat Dance Chapel with Bilha Birman-Rivlin The times above are San Francisco. Check a WORLD CLOCK to verify your time.)
Note: Chapels are managed by cynthiawinton-henry.com, not Body Wisdom.
.
Cost:

Free to Try: Donation welcome through http://cynthiawinton-henry.com/product/monthly-dance-your-prayers/
Registration/Information:

Cynthia Winton-Henry at cynthia@interplay.org

Leaders

Nancy Pfaltzgraf

Nancy Pfaltzgraf has been joyfully leading InterPlay classes and retreats in local and national settings since 2006. Having discovered InterPlay and the Life Practice Program helped her discover ease and joy in her professional life as the pastor of progressive Christian congregations. Her experience as an RN and a Hospice Chaplain has also given her a unique perspective on the way InterPlay can relieve stress and empower people in the helping professions to live and work with more grace and ease. Since leaving pastoral ministry it has been her delight to continue to offer her gifts through Body Wisdom - Deep Play groups for helping professionals, Retreats and Untensives, InterPlay Life Practice programs, Online Body Wisdom Tools classes, online classes and untentsives focusing on the Move to Greatness wisdom and an Online Interfaith Dance Chapel. Nancy holds coaching certification using the FEBI® [Focused Energy Balance Inventory] and Appreciative Inquiry and delights in both one-to-one and group Soul Coaching. Although her home base is in the Chicagoland area, her mastery of online communication forms allows her to serve people wherever they are. All this allows her to fulfill her life mission to "lead with love, follow with trust and dance with joy with those ready to step into the life-giving rhythms of grace".,

Cynthia Winton-Henry

Cynthia Winton-Henry, co-founder of InterPlay with Phil Porter, has researched "what the body wants" in the arts, in jails, shelters, slums, hospitals, churches, businesses, classrooms, doctoral programs in theology and the arts, and in multicultural education. She develops somatic curriculums to address racism, leadership for the Earth, and spiritual intelligence with an eye to supporting millennials. A featured speaker on the Body Intelligence Summit and a keynoter at conferences, Cynthia is the author of What the Body Wants, Having It All: Body, Mind, Heart & Spirit Together Again at Last; Dance - A Sacred Art: Discovering the Joy of Movement as Spiritual Practice; and Chasing the Dance of Life: A Faith Journey. Currently writing on Body Wisdom and Social Justice and on "Ensoulment," she coaches leaders seeking spiritual intelligence for our time at cynthiawinton-henry.com.

Jane Siarny

Jane Siarny is dedicated to uplifting the human spirit through creativity, community building, and body-wise practices. For me, InterPlay opens the door to an integrated spiritual practice that allows for freedom and growth. Throughout my dance career and yoga teaching I have found InterPlay to be the one practice where I can express all of myself; body, mind, heart and spirit. The Online Dance Chapel is one of the best ways for me to consistently share the transformative power of InterPlay. Jane also is the InterPlay Life Practice Program Coordinator, has led numerous Life Practice groups since 1999, and is a Mentor & Facilitator in the InterPlay Leader Training Program. Jane's story can be found in MOVE: What the Body Wants by InterPlay co-creators Cynthia Winton-Henry with Phil Porter.

Ruth Schowalter

Ruth Schowalter, visionary folk artist, communications educator and creativity coach, started The Daily Creative Practice to insure that her own art, dreams, and creative ideas get priority. Within InterPlay, an improvisational system that unlocks the wisdom of the body, she found all the tools she needed to put grace and an ethic of play at the center of life.

Monisha Mittal

Monisha is a mystic, a writer and recovering over-achiever. Early in her career, working in rural India and north Philadelphia, she found joy helping women and children find their individual expression and voice. More than twenty years later, InterPlay came running to meet her when she left her full-time corporate job. Inspired by the freedom, connection and laughter InterPlay brings to those it touches, she supports creative writing, personal awareness and growth, and spiritual connection with InterPlay. Monisha is a certified Sacred Depths coach and leads the Hidden Monastery Dance Chapel every Friday.

Greer Dokmanovic

Greer Hudson Dokmanovic is a facilitator of InterPlay and a Minister in the Uniting Church in Australia. She says, "I am passionate about embodied spirituality - finding ways for people to feel at home in their own bodies, to play with spiritual expression, and to connect to themselves, others, and to that which is both deep within and beyond (some may use the name God - the Divine - Spirit...). Over the last year I have been facilitating a new offering which I call Embody. Using the InterPlay forms and tools, we have been intentionally making space for playful, embodied, authentic spirituality, which is open to all expressions of faith, spirit and religion. This has been a great joy and I am excited about how this might continue to grow." Greer participated in the Art and Social Change program in 2011 at InterPlayce. Back home in Australia she completed the Life Practice Program, the InterPlay Leader Training, and more recently the Life Practice Program for Spiritual Leaders. Greer has co-led a Life Practice Program and hosted 3 SummerPlay play-shops in her new home town of Brunswick Heads, in the Northern Rivers of NSW.

Stephanie Gesling

Steph Gesling is an Australian InterPlay Leader and Art and Social Change Alumni from Melbourne. An artist and a facilitator, Steph is passionate about building community around creative learning; singing and play. She has a background in communications and has worked for the Uniting Church in Australia as a lay leader, seeding communities of faith, preaching, providing interim ministry and coordinating grassroots community projects. Steph has led InterPlay workshops that reconnect artists, activists and sometimes-over-thinkers with their sense of fun, freedom & clarity. Her current interests include plants, storytelling, making silly noises with her partner and baby, and walking along a local waterway called the Merri Creek.

Kaira Jewel Lingo

Kaira Jewel Lingo teaches meditation and mindfulness internationally, with a focus on activists, people of color, artists, educators, families, and youth. She began practicing mindfulness in 1997. An ordained nun of 15 years in Thich Nhat Hanh's Order of Interbeing, she leads retreats in the U.S. and internationally, offering mindfulness programs for educators and youth in schools, as well as individual spiritual mentoring. In addition to her roots in the Zen tradition, she practices and teaches in the Insight tradition and will graduate from Spirit Rock Teacher Training in 2020. She explores the interweaving of art, play, ecology and spiritual practice and is a certified yoga teacher and InterPlay leader. She has loved training in dance and other expressive arts since childhood. She edited Thich Nhat Hanh's,

Planting Seeds: Practicing Mindfulness with Children

and has articles and chapters published in numerous magazines and books, including

Real World Mindfulness for Beginners

. She is currently based in Colombo, Sri Lanka, but will move to Louisville, Kentucky in May, 2020. Visit

kairajewel.com

to learn more.

Coke Tani

Coke Tani, is a movement and literary artist, spiritual companion, and teacher/facilitator. In addition to having co-led the Secrets of InterPlay & Life Practice Program, Coke served as InterPlay's first Liaison to Leaders of Color, where she introduced the expansion of InterPlay forms for embodied anti-racism education, and co-created InterPlay's first BIPOC Daylong Retreat. Currently, Coke leads InterPlay in communities of color and faith-based settings, as well as in 1:1 focus sessions, She serves on InterPlay's Racial Equity and Transformation Committee, and also leads weekly Dance Chapels through The Hidden Monastery. In former years, Coke was a community-based therapist and solo theater artist. She holds an MSW, MFA and MDiv.

Bilha Birman Rivlin

Bilha Birman Rivlin, PhD, has been a theatre professional for over 30 years as an actress, director, puppeteer, story teller, and teacher. She earned her PhD from the Theatre Department at Wayne State University, where she wrote her dissertation on the creative process and the path of transformation. 

Bilha is a long-time practitioner of Insight Mindful Meditation (IM), and has been teaching IM along with Buddhist practices and philosophies for over a decade. 

Bilha's journey with theatre, drama, improvisation, and IM practices allow her to explore life's present moment in its kaleidoscopic forms of expression. The integration of Dharma, drama and the creative play is Bilha's guiding passion and contribution to her teachings. It is her path to the soulful life we all aspire to live. 

"InterPlay moves me to communicate what I feel with myself and others by improvising my presence through words, sound, movement, connection and stillness." -Bilha Birman-Rivlin