Journey into Body Wisdom and Spirituality
Secrets of InterPlay for Spiritual Leaders 2020 Online
Where the Soul Loves the Body
Cynthia Winton-Henry
,
Cassandra Sagan
, and
Annie-Rose London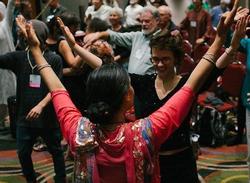 ONLINE
Monday-Thursday October 19th–22, 2020
9:30 am-12:30 pm and 2:00-4:30 pm PST
Join Cassandra Sagan, Maggid and Holy Clown, Cynthia Winton-Henry, InterPlay cofounder and Annie Rose London on a journey into Body Wisdom
With plenty of time to explore the balance of creative practice and wisdom teachings, the retreat unfolds through elegantly crafted moments of movement, voice, story, and stillness, which open up wisdom like parables. In this time of unutterable complexity, diversity, and challenge, connecting back to the body wisdom and spiritual Source is more important than ever!
Learn tools that are helping leaders across faiths and traditions to reorient to the wisdom of the body and Earth:
Easy Focus, Body Data/Knowledge/Wisdom, Internal Authority, Physicality of Grace, Exformation, Spiritual Disciplines, Incrementality, and Affirmation. Gather grace, ease, and spontaneous health as body and soul yield refreshment, connection, and guidance. Explore
• How Soul Loves The Body: Recovering Soul Languages
• How Spontaneity Serves A Signature Of Soul
• How Transformation Acts As A Creative Process
• How the Architecture of Soul is Bigger Than One Body
• How Different Arts Create Different Results and How to Attend to this in Ritual and Healing.
This retreat leads into the
Full Life Practice Program for Spiritual Leaders
for those who want to continue. This program includes a series of online body wisdom trainings (two hours each) from 3-5 pm Wednesdays PST (California time) roughly every two weeks from October-February. During the
interactive, live, video sessions,
participants deepen their body wisdom and articulation around aspects of creative spirit, the art of truth-telling, the nature of being a bodyspirit intellectual, how to play with challenges, healing and wholeness and encourage creative prayer and service in others.
The
Closing Retreat is March 1-4, 2021: "The Art of Collective Peace-making and Ritual."
Explore creativity and body wisdom for communal life. Experience the nature of embodied, peaceful community. This retreat culminates with a life practice program graduation celebration.
Financial Assistance
Based on our commitment to Racial Equity and Transformation (read our statement here) and our understanding of other structural and personal inequalities that exist; Body Wisdom is committed to making our programs financially accessible. Financial considerations need not be a barrier to your participation. Financial support and flexible payment plans are available. Please feel free to speak to one of the leaders of this program or to one of the InterPlay staff in the Body Wisdom office (510/465-2797 or info@interplay.org).


Repeating the Program
Anyone who has previously completed the Secrets of InterPlay is eligible for the $300 repeaters rate.

Continuing Education Credit
18 CE credits for various healthcare and allied healthcare professions are available for those practicing throughout the U.S. and for educators only practicing in Illinois. CE pre-registration is required at least 2 weeks before the start of your event. Notify the Body Wisdom office (510) 465-2797 at the time of registration that you are requesting CEUs. A fee of $25 per program will be due at the time you register. CEUs are offered through Continuing Education Institute of Illinois.


Cost:

$400 tuition ($300 for repeaters)
Registration/Information:

Body Wisdom, 510-465-2797 or info@interplay.org

Leaders

Cynthia Winton-Henry

Cynthia Winton-Henry, co-founder of InterPlay with Phil Porter, has researched "what the body wants" in the arts, in jails, shelters, slums, hospitals, churches, businesses, classrooms, doctoral programs in theology and the arts, and in multicultural education. She develops somatic curriculums to address racism, leadership for the Earth, and spiritual intelligence with an eye to supporting millennials. A featured speaker on the Body Intelligence Summit and a keynoter at conferences, Cynthia is the author of What the Body Wants, Having It All: Body, Mind, Heart & Spirit Together Again at Last; Dance - A Sacred Art: Discovering the Joy of Movement as Spiritual Practice; and Chasing the Dance of Life: A Faith Journey. Currently writing on Body Wisdom and Social Justice and on "Ensoulment," she coaches leaders seeking spiritual intelligence for our time at cynthiawinton-henry.com.

Cassandra Sagan

Cassandra Sagan is a Maggid, Jewish storyteller/teacher/preacher, and a designated Leitz Kadosh, Holy Clown. She is a poet, singer/songwriter, performer, and InterPlay Leader who has worked with adults and children for over 25 years helping them to access their full creative brilliance.

Annie-Rose London

Annie-Rose London is a social artist who seeks to create raucous experiences of joy and pleasure to counteract systems of oppressive mind control. She draws together the fields of ecological design, community arts, and social justice through facilitation and performance. Her earnest irreverence is inherited from a lineage of Jewish and Queer healers. She has called herself a performance artist, a clown, a ritualist, an educator, an activist – today she calls herself happy to meet you. She has served as the executive director of Berrett-Koehler Foundation and currently facilitates leadership development and creative practice in partnership with InterPlay, The Arts and Social Change Jam, and Earth Activist Training Social Permaculture Trainings.