An evolutionary path decades in the making.
CANCELED! Creative, Spiritual Intelligence for Times of Change
InterPlay's Approach to Unlock the Full Wisdom of the Body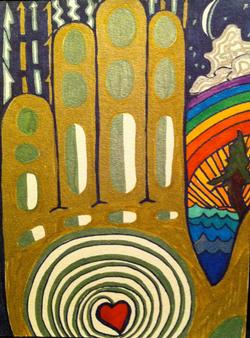 Oakland, CA
May 5th 10-4
Though its a painful time in history there is an equally potent collective movement at play. Some call it evolutionary. InterPlay is part of it. InterPlay uses active, creative practices to unlock the full wisdom of the body to keep joy, hope, and mental health in tact through tough times.

Cynthia Winton-Henry, InterPlay cofounder, believes that spiritual intelligence is the sum of all our our Intelligences: kinesthetic, emotional, spatial, cognitive etc. and that it's time to put them all together and to link to the Greater Intelligence of the planet and Universe. When we access the birthright intelligences of movement, voice, words, stillness, and reflection we build pathways of resilience instead of roadblocks.

Learn the arts of noticing, witnessing, and how to engage both human struggle and giftedness using art based practices, body-centered insights, lots of affirmation, and honor for the everyday wisdom of each body.


Cost:

$20-$80 sliding fee
Registration/Information:

Body Wisdom, 510-465-2797 or info@interplay.org

Venue
InterPlayce
2273 Telegraph Avenue (at 23rd St.)
Oakland, CA 94612
InterPlayce is the center of the InterPlay universe. The offices for Body Wisdom, Inc. are also located here. The building is at the corner of 23rd and Telegraph, one block north of West Grand. It is just a few blocks from the 19th Street Downtown Oakland BART station, and on several convenient bus lines. On-street parking is always available at night and metered during the day. It is also easily accessible by several of the major freeways.
Click here for a map.
Leaders
Cynthia Winton-Henry
Cynthia Winton-Henry, co-founder of InterPlay with Phil Porter, has researched "what the body wants" in the arts, in jails, shelters, slums, hospitals, churches, businesses, classrooms, doctoral programs in theology and the arts, and in multicultural education. She develops somatic curriculums to address racism, leadership for the Earth, and spiritual intelligence with an eye to supporting millennials. A featured speaker on the Body Intelligence Summit and a keynoter at conferences, Cynthia is the author of
What the Body Wants, Having It All: Body, Mind, Heart & Spirit Together Again at Last; Dance - A Sacred Art: Discovering the Joy of Movement as Spiritual Practice, Chasing the Dance of Life: A Faith Journey, and The Art of Ensoulment: A Playbook on How to Create From Body and Soul.
. Check out her writing, The Dancing Center, on Substack, her Hidden Monastery Online Dance Chapels and courses for those seeking spiritual intelligence for our time at
cynthiawinton-henry.com.