Enjoy some good vibrations!
Drumming and Interplay
The Perfect Combo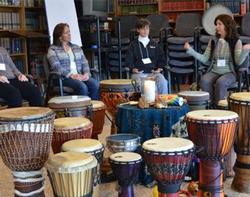 Washington, DC
November 17, 10am to 4pm
Kate Amoss and KATY GAUGHAN are offering a day-long retreat that weave the fun and vitality of InterPlay with the holy vibrations of drumming. We will move, vocalize, chant, honor stillness, and find our stories. The drum connects us to our heart beat. InterPlay connects us to the wisdom of our body. Together they will create a memorable experience.
Cost:

$60, please ask about scholarships
Registration/Information:

Kate Amoss 301/219-1223 or katamoss@gmail.com

Leaders

Kate Amoss

Kate Amoss, MA, LCPC, is an InterPlay Master Teacher and Professional Counselor in private practice. Trained in archetypal depth psychology, she has an abiding curiosity in all things hidden below surfaces -- deep roots, bedrock truths, neuro-biological processes, ancestral antecedents, and ancient cataclysms. For her, InterPlay has offered the best toolbox of forms and practices with which to excavate the mysteries of ourselves and our world. She uses applied InterPlay with clients in groups, workshops, and individually. Since 2005, she has been co-leading the InterPlay Life Practice Program in Washington DC.