Relish the joy of creative expression
InterPlay with Kat & Barb at Traverse Wellness Center--temporarily closed
Come join us for a uniquely creative and transformational experience!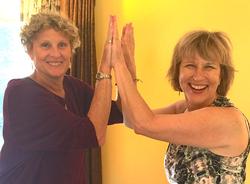 Traverse City, MI
2nd and 4th Saturdays monthly, 11am-1pm
InterPlay uses movement, words, stillness and voice to release stress, increase creativity, and free yourself from the confines of "rules," while cultivating meaningful community connections. We will update when TWC is open again and in-person classes can reconnect.
Cost:

FREE first time, 3 sessions for $40, $15 drop-in for 2-hour session
Registration/Information:

Register at www.facebook.com

Venue
Traverse Wellness Center
2785 Garfield Rd, N, #C
Traverse City, MI 49686
Across from McLain's Bicycles, Located behind Flash Studio building--look for red flag roadside and go to end of driveway to park. The studio is upstairs. Dress comfortably, wear socks or indoor-only shoes--or barefoot!
Leaders
Barbara Termaat
Through my InterPlay practice, I am discovering the well of creativity hidden beneath years of being "responsible". I am a lifelong lover of freeform dancing, and formerly performed as a bellydancer and spirit dancer. InterPlay reconnects me with this love and release, and goes much deeper through noticing and sharing. I particularly found the Life Practice program to be incredibly rich and transformative in processing a major life change. My years of experience as a teacher, trainer and coach provide a strong basis for developing my leader practice. Co-teaching with Kat Brown was a powerful learning tool as well since we live far away from most other InterPlayers. Having recently moved to Santa Cruz, CA, I'm incorporating bits of InterPlay in a UU Soul Matters group I facilitate mostly virtually and will explore in-person opportunities as I settle in! I feel very blessed to that InterPlay now is a loving life practice for me, and I look forward to sharing this love with others for years to come.