Dive deep into creative expression, connection, and play!
Deep Play with Lee - Open Community Play Group
Connect~Create~Express~Transform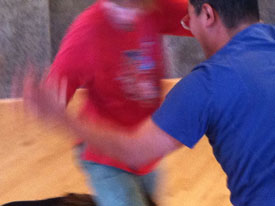 Ann Arbor, MI
Usually 3rd Saturdays from 10:00 am til 1:00 pm - contact Lee at Leeriver@umich.edu to confirm schedule for next event
Join Lee Edwards and a wonderful community of creative explorers at this monthly open community playgroup at Friends Meeting House in Ann Arbor!
Explore yourself, creativity, and connection with others through InterPlay's powerful combination of movement, story, sound, stillness, and contact.
Lee offers this open community playgroup on 3rd Saturdays. Each event is focused on a different theme, and the 3 hour schedule allows a deep dive into the topic.
Engaging in this way helps to free your body and your voice, deepen the connection with your creative self, bring breath and ease back into your life, and build awareness of the wisdom of your body, all while cultivating meaningful community connection.
InterPlay is something that anybody can do—no experience is necessary. The focus is on exploration, authenticity, and enjoyable personal and group expression—all you need is a willingness to engage. Expect to laugh, savor and relax & be surprised by what you can do!
Come join us for a joyful, creative, and transformative experience!
For more info, see Lee's website at: SoulWays Body-Mind Therapy. Or the Facebook page at: InterPlay SE Michigan. Or the Meetup group at: InterPlay Ann Arbor.
Cost:

$15 - $30 suggested donation
Registration/Information:

Lee Edwards, 231-774-6146, Leeriver@umich.edu

Venue
Friends Meeting House
1420 Hill Street
Ann Arbor, MI 48104
There is parking at the rear of the building, or on the side streets.
Leaders
Lee Edwards
Lee Edwards is a Body-Mind Therapist, Certified InterPlay Leader, and a Life Practice Program Leader, and she leads in-person and online workshops in a range of creative and transformational topics. Lee's journey with InterPlay started in 2008, and she's been leading InterPlay since 2016, and became a Life Practice Program leader in 2020. In addition to running a therapy practice, Lee loves using creative expression, drama, and movement for self-exploration and personal growth, as well as for the joy and fun of it, and she deeply appreciates how InterPlay weaves together many of these threads. Lee lives in Traverse City, but has been leading InterPlay across Michigan, helping to seed communities in various locations, including Traverse City, Ann Arbor, Charlevoix, Petoskey, and Detroit. If you'd like to have InterPlay come to your community, please reach out!