POST-PONED TO SEPTEMBER 19,20, 2020
Learn New Games and How to Lead Them!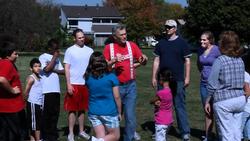 Kenmore, WA
Saturday, September 19th (9:00 - 5:00) and Sunday, September 20th (9:00 - 4:00)
International New Games leader Dale Le Fevre is bringing his New Games workshop to the Seattle area for the first time in over 30 years, giving people the opportunity to learn New Games and gain a certificate so they can run their own play sessions in schools, at work, in communities or at family gatherings.
Anyone can play New Games regardless of age, ability or fitness level. Participants play for fun and connect with others in new ways. Some games are tag-like, others are word-based, while others are sensory based and a few are trust games. Attendees will learn how to adapt these games to make them fun for all participants and possible to use with any group. Giving people the opportunity to experience each other in positive playful ways can help build morale, break down barriers and develop more robust and coherent teams.
Playing non-judgmental cooperative games energizes the spirit. In this two-day workshop, participants will experience the games by playing them, and also learn how to run New Games play sessions so they can pass on the experience to others. New Games sessions are popular at festivals, as a warmup at corporate events, in schools, in communities that need to come together, and in healing environments.
Dale Le Fevre has been a New Games teachers since 1975 teaching over a 1,000 courses in 35 countries. Dale has written many books and released DVDs/streaming videos on the subject and although born in the US presently lives in the UK. He tours the world teaching New Games.
All proceeds from this workshop will be used to support InterPlay Seattle, a local non-profit that helps people unlock the wisdom of their bodies through group play forms in a supportive community. This workshop includes a free hour of InterPlay at the end Saturday's New Games training. For those who have not experienced InterPlay, this is an excellent opportunity to have even more fun learning about a different group play form with people from InterPlay Seattle.
To check on availability or for more information on overnight accommodations, contact the University Events and Guest Services Department either by phone 425-602-3075 or email confer@bastyr.edu.
Cost:

Registration before July 15th - $195 (After July 15th - $225).
Registration/Information:

Sharie Bowman at interplaynorthwest@gmail.com or John Malenic at jmalenic@yahoo.com

Venue
Bastyr University
14500 Juanita Drive N.E.
Kenmore, WA
Here is a link to information about housing: https://bastyr.edu/sites/default/files/images/5th-Floor-Overnight-rooms-160709.pdf There will be signs at the main entrance directing you to the correct room.