a workshop series locating the moving body as a nexus for climate change research
just transitions
What can we learn from our own movement and embodied play about transitioning to more resilient futures (post Corona)?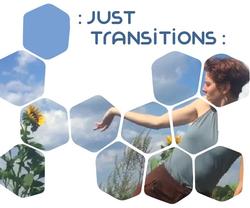 ONLINE
Every Other Sunday March 22 - July 26, 2020, 10am-11:30 PST
Every other Sunday: April 5+19, May 3+17+31, etc. 7pm CET // 1pm EST // 10am PST
If we want to change our societies, we must first learn what change and transformation look like and feel like in our own bodies. Dance is a practice comprised of continuous transitions – infinite spaces to further develop liberation as a practice by saying NO to dualism and saying YES to complexity, intersections, and hybridity. With a body-centered approach, the diversity of our experiences informs strategies for transitioning away from growth-focused consumerist movement patterns that rely on fossil fuels. In dance improvisation, we are constantly making choices. In this workshop we choose to recognize, question, and move through the pain that racist, colonial, and patriarchal hierarchies have caused. We begin with breath – the foundation to all movement, and incrementally explore different components of social and environmental justice that can be researched via movement, storytelling, sounding, and stillness.
No prior experience necessary. Queer, POC, trans* identities welcome!
To Join Zoom Meeting:
Download the Zoom App for free for your computer before the workshop starts. Click the link below and you will be asked to open the zoom app, and enter the call. I will be online 15 minutes before the workshop begins. If you have never used zoom before and need help trouble-shooting, please come online early and I can help you. Feel free to email me with questions.
Register for the Zoom Meeting Information via the Link (google form) Below:
Cost:

$0-$15 sliding scale, Keep the Gift in Movement - Robin Wall Kimmerer