Pause, Breath, Unfurl
Movement Meditation for All Womxn
Letting our bodies have what they want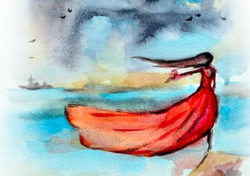 ONLINE
April 14, April, 28, May 12, May 16, June 9, June 23
In connecting to ourselves we open possibilities for sensing and feeling. This listening connects us to "more of ourselves" and supports taking actions from deeper knowing.
During this 60-minute virtual gathering, I'll lead us through a centering practice and a guided movement practice. We'll then move our bodies as we feel for a song or two and then have time for optional sharing.
Come as you are -- pajamas, unshowered, bedhead, we're all in this together. Also know, this gathering welcomes all children and pets -- especially if including the family is the only way to get a moment for yourself.
Cost:

FREE
Registration/Information:

Zoom Meeting ID: 161-900-467 Password: 527535

Leaders

Kelsey Blackwell

Kelsey Blackwell, is the author of Decolonizing the Body: Healing, Body-Centered Practices for Women of Color to Reclaim Confidence, Dignity & Self Worth (New Harbinger 2023) and a cultural somatics practitioner. As a facilitator, coach and speaker she has brought abolitionist embodied practices to such diverse groups as riders on Bay Area Rapid Transit trains to students at Stanford University to the offices of LinkedIn. She works 1:1 with clients as well as leads the 8-week group program, Decolonizing the Body. In addition to being impactful, Kelsey believes working towards personal and collective liberation must also bring joy. She lives in San Francisco, CA.