Wake up, Enjoy an afternoon pick me up, Drift off to Sleep or Play the night away!
Across the Atlantic with InterPlay
Join this International group to play
Masankho Banda
and
Jane Siarny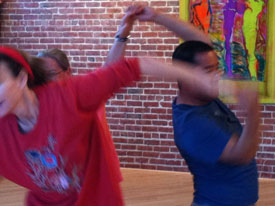 ONLINE
Tuesdays 7-8:15 am PT
Bridge distances, create threads of connection, and explore the diverse faces of InterPlay! ! This group offers a soulful place to discover practices that develop ease in movement, voice, stillness, connection and storytelling. InterPlay is a practice and philosophy rooted in the power of play. It's an easy to learn, creative process.
InterPlay balances experiences of reflection and activity. Integrating body, mind, heart and spirit, It celebrates and creates connection and community. Through this simple form of play, we learn more about ourselves and each other.
InterPlay is incremental, affirming, and something that anybody can do! It opens paths of connection between people-- between cultures and faiths.

Monetary Offering Options for these online classes:
Donations of $5-25 per session are gratefully appreciated before or after the sessions.
Please visit PayPal.Me/JaneLSiarny
Mail check to: 611 Mosedale St. St. Charles IL 60174

Cost:

$5-25
Registration/Information:

Contact Jane at: 630/715-8590 or interplaychicago@sbcglobal.net

Leaders

Masankho Banda

Masankho is a multi - disciplinary Performing Artist, Certified InterPlay Leader, Educator and PeaceBuilder. He brings many unique perspectives to his work around the world. He learned the fine arts of storytelling and dance from his Malawian culture spending many long days and nights listening to stories and dancing to music that captivated his mind, shaped his being, nourished his soul and strengthened his spirit. Using performing arts Masankho motivates and inspires people of all ages to work together to bring about peace, social justice and cultural understanding. In 1997, he started UCanDanc—African Healing Arts to bring his passion for dance and storytelling to communities around the world. Masankho has been a Certified InterPlay Leader since 1999.

Masankho can also be reached at these phone numbers: +265 99 255 5338 or 88 113 8655 (available on Whatsapp / FaceTime)

Also: Skype : kamsisi
Facebook / Twitter: storytelling4u

Jane Siarny

Jane Siarny is dedicated to uplifting the human spirit through creativity, community building, and body-wise practices. For me, InterPlay opens the door to an integrated spiritual practice that allows for freedom and growth. Throughout my dance career and yoga teaching I have found InterPlay to be the one practice where I can express all of myself; body, mind, heart and spirit. The Online Dance Chapel is one of the best ways for me to consistently share the transformative power of InterPlay. Jane also is the InterPlay Life Practice Program Coordinator, has led numerous Life Practice groups since 1999, and is a Mentor & Facilitator in the InterPlay Leader Training Program. Jane's story can be found in MOVE: What the Body Wants by InterPlay co-creators Cynthia Winton-Henry with Phil Porter.