Ease! Connection! Body Wisdom!
InterPlay Free Samples Online
Join InterPlay national staff for these free events.
Masankho Banda
,
Agnotti Cowie
,
Carolyn Renée
, and
Cynthia Winton-Henry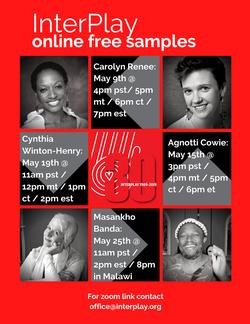 May 9–25, 2020 • Various Times (see separate listings)
InterPlay is an active, creative way to unlock the wisdom of the body.
Four leaders from the national staff will be offering InterPlay Free Samples Online in May.
Come learn some of the valuable ideas and practices that InterPlay has to offer you. Each class will cover a few of the Core Elements of InterPlay and each will be a bit different. If you take all four you will get a broad range of the practices InterPlay has to offer. Expect to have fun, connect with others, and have a chance to explore some of your personal experience in new ways. InterPlay is easy to learn, incremental, and affirming. Find more ease, more joy, more creativity in your life!
InterPlay welcomes people of all shapes, sizes, and abilities.
In turbulent times, it is important to be in touch with our unique body wisdom and to be connected in community. Now more than ever, we are looking for ways to honor all of our experiences—our joy, grief, nervousness, boredom, excitement, or whatever is going on for you.
Come for a taste of the basics. Bring a friend to share this amazing practice. All are welcome at any of these events.
Free Samples:
Saturday, May 9
•
Carolyn Renée
, Liaison to Black, Indigenous & People of Color • 4 pm PT, 5 pm MT, 6 pm CT, 7 pm ET
Friday, May 15
•
Agnotti Cowie
, Millennial Liaison • 3 pm PT, 4 pm MT, 5 pm CT, 6 pm ET
Tuesday, May 19
•
Cynthia Winton-Henry
, InterPlay Co-Founder • 11 am PT, Noon MT, 1 pm CT, 2 pm ET
Monday, May 25
•
Masankho Banda
, Liaison to International Leaders • 11 am PT, 2 PM ET, 8 pm in Malawi (where Masankho lives)
For a Zoom link, email office@interplay.org.
Cost:

FREE!
Registration/Information:

Email office@interplay.org for information and Zoom link