Are you a recovering serious person?
Playing with Possibilities
Playing through the stuckness
Vibhuti Aggarwal
,
Sukhmani Kohli
, and
Vishal Singh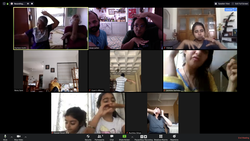 ONLINE
Every Saturday at 11am (India Standard Time) time may change
Interplay is an active, creative way to unlock the wisdom of the body.
We will play with various forms like stories, voice, stillness, movement etc. You won't be just sitting and listening. Its an interactive form where each one of us participates with our own unique selves and our creativity.
Some possible impacts of Interplay:
• InterPlay helps people find themselves, slow down and be more lighthearted. • Using movement, voice, story and stillness InterPlay supports mindfulness and joy in the present moment. • Interplay helps to build authentic relationships and connections. • It also connects one to their bodies and help get access to immense wisdom of our bodies

Who is it for:
• If you are a recovering serious person and are looking for finding joy and playful creativity and curiosity • If you are looking to release tension, stress, heaviness that you might be experiencing in these times of global pandemic • If you are wanting to connect to people in a deeper way
times may change please email mangoespurple@gmail.com if you'd like to join a class or stay updated about classes
Cost:

Pay as you Wish (ask us for payment details)
Registration/Information:

email here for the Zoom link- mangoespurple@gmail.com

Leaders

Sukhmani Kohli

Sukhmani uses theatre, clowning, body wisdom practices and her skills as an empathetic facilitator to assist others in releasing shame and practice self acceptance. She first experienced InterPlay in 2014 when she participated in the Arts and Social Change Millennial program in California. She has been leading InterPlay ever since. She believes practices like interplay are powerful entry points for moving through conflict and connecting with your own sense of magic, moving from scarceness to abundance. She works with children, young adults, working professionals, communities and organisations. She runs Purple Mangoes, a company of facilitators who call themselves experience builders, gleaners and artists.