ZOOM!!!! Good Times XI Summer InterPlay Camp
Join us online!
Masankho Banda
,
TraceyJoy Miller
, and
Diana Trotter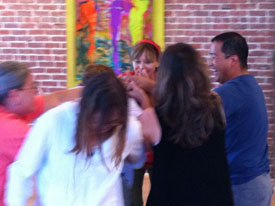 Seattle, WA
Friday, Sept 4th and Sunday, Sept. 6th 10 am to noon; Saturday, Sept 5th 10:00-noon, 2:00-4:00 pm, and 7:00-9:00 pm ALL ON ZOOM
Unusual times call for creative measures! This year summer camp has shifted all to ZOOM since KIng County is stuck in Phase 2 allowing only groups of 5 to gather.
THIS EVENT HAS TWO PARTS
PART 1
Masankho Banda will lead our online sessions on Friday, September 4th and Sunday, September 6th from 10am to noon.
The shortest distance between two people is a story. Interplay is a wonderful tool for sharing of stories. Come and learn the many ways that you can share stories as we come together continuing to strive for Racial Equity and Transformation. Our many diverse stories remind us that we share this world together in many unique and interesting ways.
PART 2
On Saturday from 10:00 to noon, 2;00-4:00pm and 7:00 to 9:00 pm TraceyJoy Miller and Diana Trotter will lead us in play and a little Zoom performing!
See What Is Possible!
In these challenging days of the Covid pandemic, social unrest, and political turmoil, it's no wonder so many of us have fallen down the Rabbit Hole of Despair. Life really IS that hard! There is so much that we CAN'T do it's easy to lose sight of what we CAN do.
Now more than ever, we need the magic of InterPlay to help us take a deep breath, shift our focus and See What Is Possible. We invite you to join TraceyJoy Miller and Diana Trotter in crawling out of our holes for a day of Summer Camp InterZoom! Together we will use fun InterPlay forms to explore the possibilities of what we CAN do in our Zoom rooms, our daily lives, our communities, and our whole wide world.
Cost:

$100 full event if paid by August 20th, After August 20th $125 (Or pay as you can...contact Sharie.)
Registration/Information:

Sharie Bowman at interplaynorthwest@gmail.com

Venue
Video Conference on Zoom
your computer
Seattle, WA
Contact Sharie Bowman at interplaynorthwest@gmail.com for meeting number and password.
Leaders
Masankho Banda
Masankho is a multi - disciplinary Performing Artist, Certified InterPlay Leader, Educator and PeaceBuilder. He brings many unique perspectives to his work around the world. He learned the fine arts of storytelling and dance from his Malawian culture spending many long days and nights listening to stories and dancing to music that captivated his mind, shaped his being, nourished his soul and strengthened his spirit. Using performing arts Masankho motivates and inspires people of all ages to work together to bring about peace, social justice and cultural understanding. In 1997, he started UCanDanc—African Healing Arts to bring his passion for dance and storytelling to communities around the world. Masankho has been a Certified InterPlay Leader since 1999.
Masankho can also be reached at these phone numbers: +265 99 255 5338 or 88 113 8655 (available on Whatsapp / FaceTime)
Also: Skype : kamsisi
Facebook / Twitter: storytelling4u
TraceyJoy Miller
TraceyJoy has been InterPlaying since 1999. She discovered InterPlay in the Twin Cities, spent 3 years in Oakland where she trained as an InterPlay Leader, and has been playing in the Seattle area since 2011. Since her 20's she has studied and applied a variety of approaches to accessing the wisdom of her body and healing. And, she loves supporting others to do the same. She spent many years committed to working on herself; working to become "good enough". Thankfully InterPlay has brought a balance of levity, playfulness, and community to her life long, sincere explorations as a human being. She considers herself a "Recovering Serious Person".
Diana Trotter
Diana is a freelance theatre artist based in Seattle WA. An award-winning director, Diana specializes in InterPlay for Performance, and has taught classes and workshops in Performance Techniques, InterPlay Storytelling and Speech-making, and InterPlay for Personal Discovery. She is a gifted InterPlay story-teller who performs Big Body Stories wherever the opportunity presents itself.