Dreaming in a Dying World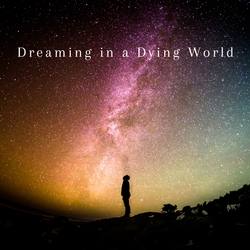 Online, ONLINE
4 Sunday's in August, August 9, 16, 23, 30
Dreaming in a Dying World is a 4 class series in which we will collectively reframe both death and dreaming. This course meets over Zoom four Sundays in a row, Aug 9, 16, 23, 30 from 12pm - 2pm CST (Central)
The world that we knew is falling apart, a kind of dying. If we learn to ride the energy of this change we can perhaps, help it to die and be intentional about how we rise from it's ashes. Together we will work through our collective fear and grief around death and letting go of this world.
We will challenge our concepts of death being an end, by contemplating the Buddhist philosophy of impermanence and through reflecting on the cycles of nature. We will use meditation, visualization and Interplay practices to explore how both life and death are inherently dream-like.
This will be an emergent space which means that the class will take shape depending on who is there and what arises in the moment. In five classes, we mayl find that we simply need to hold each other as we grieve how everything around us continues to move into the unknown. And maybe there will be the capacity to birth something new, something fresh. A new world.
Cost: We are offering this workshop on a sliding scale from $50-$150. We are also offering scholarships to anyone who cannot afford to pay $50 and to youth between the ages of 16-24. Contact us at info@joyfulground.com to receive a full scholarship or if you are a youth between 16-24.
$0 Celebrated - This option is where we celebrate you for your gifts but you cannot reattribute any monetary funds at this time. You are welcome to offer a trade if your heart calls to that. Please email us at info@joyfulground for a discount code.
$50 Honoring - This option is where you honor our work and we thank you. This option is for a partial scholarship. You do not need to email us, just select this option when registering.
$100 Supporting - This option covers the full tuition and we thank you.
$150 Sponsoring - This option covers yourself as well as those with less access to financial resources and we thank you.
Register at
Joyful Ground Website
Cost:

$0-$150
Registration/Information:

Info@joyfulground.com

Venue
Online
Online, ONLINE
This will be an online event which could originate from anywhere in the world and would be open to anyone around the world.
Leaders
Aarti Tejuja
Aarti Tejuja (she/her) is a meditation, contemplative art teacher. She is a group facilitator skilled in holding space using the methods of art of hosting, interplay, and peace circles. Aarti is a community organizer, youth mentor and advocate for those impacted by the current justice system. She graduated from DePaul University with an MS in Technology Project Management. She worked in the IT/Finance Industry for over ten years, including 6 years at the Chicago Mercantile Exchange. After completing a one month meditation retreat in 2008 with Shambhala, Aarti left the corporate world and went to work for Shambhala for ten years. During this time, she trained as a mindfulness meditation instructor, interplay instructor, art of hosting facilitator and circle keeper. Aarti co-created three self-care mindfulness conferences with multiple non-profit organizations working to end violence in Chicago. She developed several mindfulness and team building trainings for non-profits and youth in schools throughout Chicagoland. Aarti serves as a youth mentor and advocate for those who are disadvantaged by the current system. Aarti also has experience training organizations to work with racial, gender and age bias.
Aarti has personally witnessed how the magic of creativity and movement, the power of meditation and the art of holding space has transformed the lives of so many people and hopes to bring the same tools into the workplace.
Aarti lives in Berwyn, IL with her partner Matt and their 3 kitties, Mochi, Buttercup and Fiona.