Root into your innate resilience and wisdom to navigate the beauty and complexity of life in these wild times
InterPlay Playful Resilience Life Practice Program 2022 Online
Natalie Abdou
,
Agnotti Cowie
, and
Nandita Batheja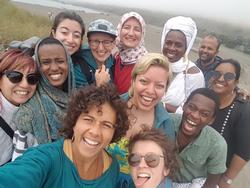 ONLINE
Two weekend retreats:
February 4-6 & April 23-24, 2022
11 Tuesday evenings:
February 8-April 19, 2022
What is InterPlay?
InterPlay is an active and creative approach to unlocking the wisdom of the body!
The Playful Resilience InterPlay Life Practice Program
is an embodied and creative way to engage with the beauty and complexity of life in these wild and ever shifting times. This program is a chance to
delve more deeply into your inner wisdom as guidance for life through the empowering body wisdom practices and principles of InterPlay.
We will play with our birth right practices of sound, storytelling, movement, dancing, connection, and stillness, as a way to express ourselves, nurture our creativity and root into our innate resilience.
We will take the time to delve deeply into the wild world of InterPlay with the added lens and framing of
social justice and personal transformation.
We are a diverse body-wise group who feel and reflect deeply on the particular socio-political aliveness of our times.
We draw on our personal, collective and ancestral wisdoms to guide us in how to live into and embody the values of a free, just and radically loving global community.
We are going to get political, silly, funky, cranky and all the in-betweens!
The
Life Practice Program invites a slow and incremental use of the InterPlay tools (principles) and forms (practices) to integrate our own body wisdom into our daily lived experience.
This way of playing and being can support us in resourcing ourselves and our communities in the ebbs and flows of life and social transformation.
InterPlay
is a practice and system of learning that enables an increased capacity for our body-spirits to attune to its inherent wisdom and put this to good use in our day-to-day lives.
We lean into ease of being, affirmation of our inner knowing, incrementality in change, calling upon our inner clowns and deep raucous playfulness
as a way to release stress and tap into more of what uplifts and celebrates us.
Why Playful Resilience?
Playful Resilience is a collective of diverse, intergenerational, gender-fluid InterPlayers from around the world. Seeded in the early days of the COVID pandemic, Playful Resilience seeks to bring play and levity during these challenging and complex times. We value slowing down, accessing creativity and inspiration, and finding new ways of being and connection in a time of global transformation. We are folks who are all rooted in practices of social justice, community healing, celebration and change - and we warmly welcome folx of all grooves in life to join us. To learn more about the Playful Resilience Collective, please visit our Facebook page.


What does a Playful Resilience Life Practice Program actually look like?
We will come together as a consistent group of playmates who meet regularly over a three month period including two weekend retreats at the beginning and end, along with weekly 2 hour sessions. We will play, learn, stretch and grow alongside each other and co-create a community of support as we journey together.

You will have the space to identify a personal intention for the program and beyond - nurturing this desire as you attune more deeply to your own body wisdom. You will also receive two to three focus sessions as part of the program - this is specific play time where you are held in the community container and guided by the program leaders in exploring any aspect of life - a desire, curiosity, challenge, anything - using the tools and forms of InterPlay.


Schedule & Details:

Immersive Weekends: February 4-6, 2022 & April 23-24, 2022
The program will begin and end with an immersive weekend of play and celebration - a chance to create and ground into our shared body-wise space with one another as the foundation and conclusion of the program. Annie-Rose London will be joining the opening and closing weekends as our weekend weaver.

Opening Weekend - February 4-6, 2022
(2 hours Friday — 4 hours a day Saturday & Sunday)

Friday, February 4
3-5pm PT / 6-8pm ET

Saturday, February 5
9am - 11am & 12:30 - 2:30pm PT
12pm - 2pm & 3:30 - 5:30 pm ET

Sunday, February 6
9am - 11am & 12:30 - 2:30pm PT
12pm - 2pm & 3:30 - 5:30 pm ET

This 3-day retreat will give us the opportunity to connect and build our connection with one another, give shape to our playspace container and plant the seeds of intention for our journey.

Weekly Playtime - 11 Tuesday evenings: February 8th-April 19th, 2022
Tuesdays - 3-5pm PT / 6-8pm ET

These weekly gatherings will be the beating heart of our program - where we connect, tune in & explore together. We will play with the various InterPlay forms and tools and engage in personalized focus sessions held in the community. This is where we get to incrementally weave the wisdom of our being into our lives through slow and steady sharing, witnessing & noticing.

Celebration Weekend - April 23-24, 2022
(4 hours a day Saturday & Sunday)

Saturday, April 23
9am - 11am & 12:30-2:30pm PT
12pm - 2pm & 3:30-5:30 pm ET

Sunday, April 24
9am - 11am & 12:30 - 2:30pm PT
12pm - 2pm & 3:30 - 5:30 pm ET

This will be a chance for us to come together at the end of our journey to simply BE & PLAY with one another, celebrating our body wisdom and each other!


The Elements of the Playful Resilience Life Practice Program

• A series of 2 online weekends and 10 evening gatherings with your Life Practice Program group for play, presentation, discernment, and interaction, where you will have a chance to explore new creative possibilities in a supportive community.

• Receive 2-3 focus sessions during which you receive personal support from the program leaders to learn how to access your body wisdom, learn a new tool/skill, and apply it to whatever situation you desire.

• Reading, writing and art processes which will help you apply InterPlay insights to your own life.

• An InterPlay Core Elements Self-Study of several of the elements of the InterPlay system that will give you a more in-depth understanding of how InterPlay works.

• The Secrets of InterPlay is not included within this program. To complete the Life Practice Program, you may enroll in any Secrets of InterPlay offered.

Since its creation 25 years ago, the InterPlay Life Practice Program. has been an active, creative way to change your life and change your world. Although some previous experience with InterPlay is encouraged, there are no prerequisites for taking part in the Life Practice Program.


Financial Assistance
Diversity is a great gift in the InterPlay experience. Based on our commitment to Racial Equity and Transformation (read our statement here) and our understanding of other structural and personal inequalities that exist, Body Wisdom is committed to making our programs financially accessible.

Financial considerations need not be a barrier to your participation. Financial support and flexible payment plans are available. Please email info@interplay.org (or call 510/465-2797), or feel free to speak to one of the leaders of this program.


Life Practice Program Attendance
Life Practice Program Attendance Community building is an integral part of the InterPlay system. To experience the most out of a Secrets of InterPlay weekend or the Life Practice Program, we recommend that you attend all of the sessions. This immersion program into the forms and tools of InterPlay is most effective when the group can stay together over time. If you are considering becoming an InterPlay leader, participation and attendance for the full program, including attending a Secrets of InterPlay weekend, will be necessary to complete the Life Practice Program, which is the first step in becoming a certified InterPlay leader. If you have questions about this please visit: InterPlay Leader Training Program.


Continuing Education Credit
Up to 40 CE credits for various healthcare and allied healthcare professions are available for those practicing throughout the U.S. and for educators only practicing in Illinois. CE approval is required before you register for this event. Email Jane Siarny at interplaychicago@sbcglobal.net to APPLY for CEUs. There is a charge of $25-$40 per program. CEUs are offered through Continuing Education Institute of Illinois or R. Cassidy Seminars.

Financial Assistance questions:
Angela Urata at info@interplay.org
Programmatic questions:
Agnotti Cowie at agnotti.interplay@gmail.com
Natty Abdou at natalie.abdou@gmail.com

Cost:

Special $300 discount: $1,550 (does *not* include tuition for Secrets of InterPlay) / $750 for repeaters
Registration/Information:

Registration Questions: email office@interplay.org. For financial assistance: email info@interplay.org.

Leaders

Natalie Abdou

I have been on a life-long journey of curiosity and creativity, and have spent the last 10+ years connecting and collaborating with diverse communities, in North America and the Middle East, by co-creating learning environments that are founded upon shared values of diversity, love, respect and self-empowerment - embracing a vision of solidarity, social justice and change from the inside-out. I weave in elements of embodied wisdom, Theatre of the Oppressed and other visual/movement/story arts into my practice and see/feel the arts as portals for personal and collective transformation, providing space for our souls to dance, breathe, heal and unleash the deep wisdom that resides within. That is why my heart exploded with resonance and childlike joy when I came into connection with Interplay in 2015 - since then I have had the gift of mentorship and leadership within the Arts & Social Change program, of mentoring alongside Cathy Ann in the Life Practice Program, and co-creating with Interplay POC community as we explore and better understand the ways in which this diverse unique group body plays. I feel deep gratitude for the way in which InterPlay has danced its way into my life bringing with it so many quirks and magic.

Agnotti Cowie

Agnotti Cowie attended the first ever "Art & Social Change: InterPlay for Millennial Leaders" in 2010. Since, she joined InterPlay's national board as well as becoming a certified InterPlay leader. For the past two years, she returned to Oakland as a facilitator of the Art and Social Change training. Agnotti facilitates workshops worldwide employing a variety of pedagogical techniques such as InterPlay, Theatre of the Oppressed, and Devising. Currently she is based in Chicago where she does workshops in schools, organizations and with social movements. Recently, she has taken her work around the globe teaching workshops in Vietnam, India, and Germany.

Nandita Batheja

Nandita Batheja is a somatic facilitator, writer and educator who works across sectors, advocating for justice, liberation and creative being. She believes imagination is crucial to change-work and that play is freedom's underdog. Nandita has trained in several facilitation methods and community arts practices. She studies the somatics of living, aging & dying (with Jeanne Denney( to better support individuals and groups in tumultuous times. She is also currently a masters candidate at the Kroc School for Peace & Justice, focusing on violence prevention and systemic transformation. Working with artists, activists, and communities in conflict through the US, she finds InterPlay to be a great medicine and magic for our collective spirit. She leads InterPlay workshops in NYC, San Diego & Bangalore.