BIPOC-led focus sessions for BIPOC InterPlayers
Loving Container Focus Sessions for BIPOC
Supporting BIPOC experiencing grief, sadness, and trauma
Masankho Banda
,
Natalie Abdou
,
Kaira Jewel Lingo
,
Lois Toni McClendon
,
Soyinka Rahim
,
Carolyn Renée
, and
Coke Tani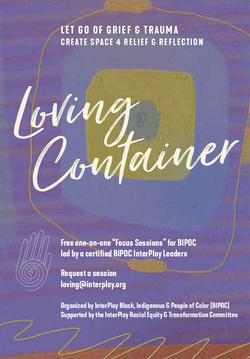 ONLINE
By appointment • See details below
The Loving Container is a healing container of love, a sacred space, created by InterPlay Black, Indigenous People of Color (BIPOC) for BIPOC, using InterPlay Focus Session Form.  The InterPlay Focus Session Form is where a sacred space is created that provides for a one-on-one or group healing session between a Certified InterPlay Leader (CIL) and an individual requesting relief, support, and/or guidance and direction for a specific issue, challenge or concern.
This sacred healing space takes place in a one-on-one Zoom Meeting Room with the CIL. If the person requesting the Focus Session would like to participate in a Focus Session where the CIL is joined by a small supportive group of individuals (BIPOC) who help the CIL hold space, that is also an available option. The sessions are free
Why BIPOC ONLY? BIPOC communities, according to many sources, including but not limited to the Centers for Disease Control (CDC) updates and the Associated Press—both have reported that these communities have been disproportionately impacted to a larger degree than others by the pandemic and racial oppression. That's not to say that other communities have not been impacted, and aren't grieving. However, the trauma associated with grief, loss, and sadness experienced in communities of color is old hat. For centuries the BIPOC community has dealt with whatever has come and continued to press on to the next adversity, most times without addressing or healing from what lay beneath the surface of deep suffering and hidden gaping wounds. InterPlay offers unique body wisdom tools and forms that provide release, and relief, to individuals receiving focus sessions towards their self-empowerment.
How the Loving Container works?  The container works in support of BIPOC with grief, sadness, trauma and/or issues related to COVID-19 and/or events directly related to racial oppression and the impact on BIPOC bodies. If interested in a Focus Session, you start the process by sending an email to: LOVING@interplay.org. Whether you want your Focus Session conducted in a group setting, or one-on-one, the CIL will work to honor your request as part of scheduling the Focus Session. 
Cost:

Free!
Registration/Information:

To set up a time, email