For those who have attended a Secrets of Leading InterPlay
Teaching Practicum August 12-15, 2021 Online
InterPlay Leader Training Program
Ginny Going
,
Coke Tani
, and
Masankho Banda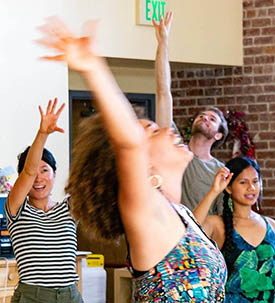 ONLINE
Thursday, August 12 at 2:45 pm ET thru Sunday, August 15 at 1:30 pm ET
The InterPlay Teaching Practicum is a core component of the InterPlay Leader Training Program. It is open to those who have enrolled in the Leader Training Program and attended a Secrets of Leading InterPlay event. Previously certified InterPlay leaders may also attend.
The Practicum is a multi-day workshop that includes practice teaching by participants with self-evaluation and feedback from leaders and other participants, information on best practices in designing and leading InterPlay events, and teaching resources such as sample class outlines.
Note: After attending a Secrets of Leading and before attending a Teaching Practicum, participants complete 12 of the Self Study Core Elements and record their completion on the InterPlay website Leaders Circle form. Access to the Leaders Circle is provided after the Secrets of Leading InterPlay. For questions about this requirement, contact Ginny Going, Leader Training Program coordinator, at ginny.going@gmail.com.
STARTS Thursday, August 12 at 2:45 pm ET and ends Sunday, August 15 at 1:30 pm ET.
Schedule
Session #1: Thursday 2:45 - 5:30 pm ET
Session #2: Friday 11:00 am – 1:30 pm ET
Session #3: Friday 2:30 - 5:00 pm ET
Session #4: Saturday 11:00 am - 1:30 pm ET (8:00 - 10:30 am PT)
Session #5 Saturday 2:45 - 5:00 pm ET
Session #6 Sunday 11:00 am - 1:30 pm ET
Continuing Education Credit
13 CE credits for various healthcare and allied healthcare professions are available for those practicing throughout the U.S. and for educators only practicing in Illinois. CE pre-registration is required at least 2 weeks before the start of your event. Notify the Body Wisdom office (510) 465-2797 at the time of registration that you are requesting CEUs. A fee of $25 per program will be due at the time you register. CEUs are offered through Continuing Education Institute of Illinois.
The Teaching Practicum is included in the tuition for the Leader Training Program. A payment of $300 toward the total tuition is due before the Practicum and a payment plan for the balance needs to be in place. The payment button below includes options for paying the balance of the Program or you may contact Lucia@interplay.org to set up a payment plan.
The tuition for repeating the Practicum or for previously certified leaders is $300.
Cost:

A payment of $300 and a payment plan for the balance of the Leader Training Program are due before the Practicum.
Registration/Information:

Registration Questions: email Lucia@interplay.org. For financial assistance: email Stephanie@interplay.org.

Leaders

Ginny Going

As a recovering serious person, I consider InterPlay my 12-step program and my life practice for having more ease and grace. I've been InterPlaying for 27 years and have watched the blooming and spread of InterPlay all over the world with gratefulness and delight.

For the past 13 years I've been immersed in the development and growth of the Leader Training Program and currently serve as the program coordinator. I love offering people the "big body" tools of InterPlay for telling their stories, especially people on the margins of our communities. I am also passionate about embodied spirituality, engaging people in prayer and worship forms that include and honor the body. It has been an amazing experience to participate in and teach InterPlay in many places around the world.

Currently the Leader Training Program is being reshaped to integrate Racial Equity and Transformation into all aspects of InterPlay leader training. This is truly an exciting and exhilerating time to be part of the world-wide community of InterPlay!

Coke Tani

Coke Tani, is a movement and literary artist, spiritual companion, and teacher/facilitator. In addition to having co-led the Secrets of InterPlay & Life Practice Program, Coke served as InterPlay's first Liaison to Leaders of Color, where she introduced the expansion of InterPlay forms for embodied anti-racism education, and co-created InterPlay's first BIPOC Daylong Retreat. Currently, Coke leads InterPlay in communities of color and faith-based settings, as well as in 1:1 focus sessions, She serves on InterPlay's Racial Equity and Transformation Committee, and also leads weekly Dance Chapels through The Hidden Monastery. In former years, Coke was a community-based therapist and solo theater artist. She holds an MSW, MFA and MDiv.

Masankho Banda

Masankho is a multi - disciplinary Performing Artist, Certified InterPlay Leader, Educator and PeaceBuilder. He brings many unique perspectives to his work around the world. He learned the fine arts of storytelling and dance from his Malawian culture spending many long days and nights listening to stories and dancing to music that captivated his mind, shaped his being, nourished his soul and strengthened his spirit. Using performing arts Masankho motivates and inspires people of all ages to work together to bring about peace, social justice and cultural understanding. In 1997, he started UCanDanc—African Healing Arts to bring his passion for dance and storytelling to communities around the world. Masankho has been a Certified InterPlay Leader since 1999.

Masankho can also be reached at these phone numbers: +265 99 255 5338 or 88 113 8655 (available on Whatsapp / FaceTime)

Also: Skype : kamsisi
Facebook / Twitter: storytelling4u