Teaching Practicum February 2021 Online
InterPlay Leader Training Program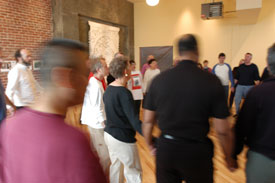 ONLINE
Thursday February 4 at 2:00 pm CST thru Sunday February 7 at noon CST.
The InterPlay Teaching Practicum is a core component of the InterPlay Leader Training Program. It is open to those who have enrolled in the Leader Training Program and attended a Secrets of Leading InterPlay event. Previously certified InterPlay leaders may also attend.
The Practicum is a multi-day workshop that includes practice teaching by participants with self-evaluation and feedback from leaders and other participants, information on best practices in designing and leading InterPlay events, and teaching resources such as sample class outlines.
Note: After attending a Secrets of Leading and before attending a Teaching Practicum, participants complete 12 of the Self Study Core Elements and record their completion on the InterPlay website Leaders Circle form. Access to the Leaders Circle is provided after the Secrets of Leading InterPlay. For questions about this requirement, contact Ginny Going, Leader Training Program coordinator, at ginny.going@gmail.com.
STARTS Thursday February 4 at 3:00 pm EST (Noon PST; 1:00 pm MST; 2:00 pm CST) and ends Sunday February 7 at 1:30 pm EST. (10:30 am PST; 11:30 am MST; 12:30 pm CST)
Schedule
Session #1: Thursday 3:00 - 5:30 pm ET (12:00 - 2:30 pm PT)
Session #2: Friday 11:00 am – 1:30 pm ET (8:00 - 10:30 am PT)
Session #3: Friday 3:00 - 5:00 pm ET (12:00 - 2 :00 pm PT)
Session #4: Saturday 11:00 am - 1:30 pm ET (8:00 - 10:30 am PT)
Session #5 Saturday 3:00 - 5:00 pm ET (12:00 - 2:00 pm PT)
Session #6 Sunday 11:00 am - 1:30 pm ET (8:00 - 10:30 am PT)
Continuing Education Credit
13 CE credits for various healthcare and allied healthcare professions are available for those practicing throughout the U.S. and for educators only practicing in Illinois. CE pre-registration is required at least 2 weeks before the start of your event. Notify the Body Wisdom office (510) 465-2797 at the time of registration that you are requesting CEUs. A fee of $25 per program will be due at the time you register. CEUs are offered through Continuing Education Institute of Illinois.
The Teaching Practicum is included in the tuition for the Leader Training Program. A payment of $300 toward the total tuition is due before the Practicum and a payment plan for the balance of the program needs to be in place. (The tuition for repeating the Practicum or for previously certified leaders is $300.)
Cost:

A payment of $300 and a payment plan for the balance of the Leader Training Program are due before the Practicum.
Registration/Information:

info@interplay.org or 510/465-2797