A love exformation - we're moving out LOVE to the world!
Celebrate the Power in the Little Girls & the Power in the Women
CC King
,
Anne Mulvey
, and
Soyinka Rahim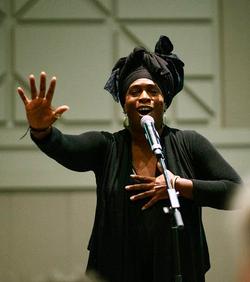 Online, ONLINE
March 3, Wednesday @ 7pm EST- 6pm CST - 4pm PST
Join us in an InterPlay BIBOLOVE Exformation. Let's Play with our Power: potent, possible, practical, peaceful. Come unlock the wisdom of your body through Play: breath, move, chant, tell your story. Using the easy improvisational tools of InterPlay we'll Celebrate the power in the little girls and the power in the women.
Led by Soyinka Rahim, CC King & Anne Mulvey. "ALL Young Girls Are Welcome" (ages 13 to 113) and all She, Her, They's.
Cost:

Free - Love donations accepted but just come!
Registration/Information:

for information & to get the zoom link: ccking.interplay@gmail.com

Leaders

CC King

CC King is a certified InterPlay Leader and trainer, Boston-area coordinator and a memory play specialist. She has been practicing the joyous unfolding of Interplay for almost 20 years. CC is an expressive therapist, visual artist, teacher and community activist. As the co-founder of a local arts and environment program, she facilitates workshops in organic sculpture and organizes public performance. Play with elders and Memory Cafes are a special interest, as are cancer support and racial healing & transformation. Her background includes nonprofit management, art and family therapy, trauma-informed InterPlay and a life-long commitment to finding sustenance, creative activism, and joy in the natural world.

Anne Mulvey

Anne Mulvey, Ph.D., is a certified InterPlay Leader and Professor Emerita at UMass Lowell where she teaches psychology and gender studies. Since discovering InterPlay in 2009, she has incorporated it into her work that uses the arts and activism to support the well-being of all community members, including herself. Anne has served on non-profit boards, is a founding member of Lowell Women's Week (www.lowellwomensweek.org) and a long-time member of the PowWow River Poets (www.powowriverpoets.com). She has published theoretical, empirical and creative work related to her interests.

Soyinka Rahim

Soyinka Rahim (GSP) is a grassroots spiritual practitioner who is the founder and artistic director of

BIBOLOVE.US

 which stands for "breathe in breathe out love." She was also the founder of OurThing Performing arts company, where she created the modern-day folk dance play

An Altar Piece to Alter Peace

, a multimedia, intergenerational performance piece for peace. Her work BIBOLOVE taps into the power of sound, movement and visual art, raising the love vibration of peace, love, joy, happiness, health, grace, and ease. BIBOLOVE supports our personal and collective life challenges by feeding the love frequencies for generational, cultural, racial, body, and economic unity.  Soyinka has brought her wisdom as a spiritual director, conference weaver and workshop leader to InterPlay Certified Life practice, Facing Race, National Association for Independent Schools for Teachers of Color,   Boys and Girls Clubs, Spiritual Directors International Conference, and the Parliament of World Religions.