Discover the healing and integrational power of creating for yourself and your clients!
Life Practice Program for Helping Professionals May-Oct 2023 Online
Create more ease in your life and your life's work
Marla Durden
and
Christine Gautreaux, MSW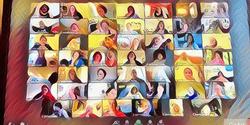 ONLINE
6 SATURDAYS 11:30 am-9:00 pm ET
May-October 2023
As a helping professional could you use:
Practical tools to assist clients in accessing their own creative resources?

Trauma-informed techniques that enable clients, students, and ourselves to lessen anxiety, strengthen self-confidence, and learn to trust the wisdom of our bodies?

Body wisdom practices that encourage deeper, non-verbal connections?

A more playful approach to addressing tough issues in your workplace setting?

Art-based activities to elicit fun and healing laughter while the work is getting done?

More encouragement and support as you carry out the demanding assignments of your helping profession?

Somatic skills to help navigate the work of racial equity & transformation?

Community accountability for self-care while you practice community care?
The InterPlay Life Practice Program for Helping Professionals
is an active, creative way to change your life, your work, and your world.
$300 off the tuition
for the Life Practice Program if you enroll in this virtual program!
Immerse yourself in
the system of InterPlay—ideas and practices that can move you, and your clients, from where you are to where you would like to be.
Find freedom through movement, story, sound, and stillness, and
discover creative ways to change what you want to change in your life.
Learn
somatic skills
to use for yourself and your clients.
Be nurtured by an accessible, connective, trauma-informed virtual setting that is restorative vs. draining.
The Elements of the Life Practice Program

The Secrets of InterPlay 2 Saturdays March 18 & April 15

Meet for 6 Saturdays with a group of caring professionals for a series of gatherings with your Life Practice Program group for play, presentation, discernment, and interaction, where you will have a chance to explore new creative possibilities in a supportive community.

Receive three focus sessions during which you receive personal support from the program leaders to learn how to access your body wisdom, learn a new tool/skill, and apply it to whatever situation you desire.

Participate in a Body-Spirit Celebration during the final weekend, to play with the InterPlay forms and tools and share them with each other in a celebratory and honoring way.

Receive a Core Element Self Study and Elective Reading and writing assignments which will help you apply InterPlay insights to your own life and work.

Schedule
SATURDAYS 11:30-2:00 pm, 3:00-5:30 pm, 6:30-9:00 pm ET
May 20, 2023
June 17, 2023
July 15, 2023
August 19, 2023
September 16, 2023
October 21, 2023

You may use this supportive, affirming community to help you shape your life in ways that are best for you and your work. You will get individual attention from the program leaders, and help to identify your personal and professional desires and intentions.

Although some previous experience with InterPlay is encouraged, there are no prerequisites for taking part in the InterPlay Life Practice Program.


Sampler Class
Sheila and Christine teach every
Tuesday morning at 11:30am -12:30 pm ET
and you are welcome to come sample their class. For information, click here
Radical Self-care Series
Financial Assistance
Diversity is a great gift in the InterPlay experience. Based on our commitment to Racial Equity and Transformation (read our statement here) and our understanding of other structural and personal inequalities that exist, Body Wisdom is committed to making our programs financially accessible.

Financial considerations need not be a barrier to your participation. Financial support and flexible payment plans are available. Please email info@interplay.org (or call 510/465-2797), or feel free to speak to one of the leaders of this program.


Continuing Education Credit
Up to 55 CE credits (15 for Secrets weekend & 40 for Life Practice Saturdays) for various healthcare and allied healthcare professions are available for those practicing throughout the U.S. and for educators only practicing in Illinois. CE pre-registration is required before the start of your event.
Email Jane at interplaychicago@sbcglobal.net to APPLY for CEUs. There is a charge of $25-$40 per program. CEUs are offered through Continuing Education Institute of Illinois or R. Cassidy Seminars.


Repeating the Program
Anyone who has previously completed the Life Practice Program is eligible for the $1,000 repeaters rate. You may also repeat the weekends only (without Secrets) for $750.


Life Practice Program Attendance
Community building is an integral part of the InterPlay system. To experience the most out of a Secrets of InterPlay weekend or the Life Practice Program, we recommend that you attend all of the sessions. This immersion program into the forms and tools of InterPlay is most effective when the group can stay together over time. If you are considering becoming an InterPlay leader, participation and attendance for the full program, including attending a Secrets of InterPlay weekend, will be necessary to complete the Life Practice Program, which is the first step in becoming a certified InterPlay leader. If you have questions about this please visit: InterPlay Leader Training Program.


Cost:

**Special $300 discount while online: $1,950 (includes tuition for Secrets of InterPlay) / $1,000 for repeaters
Registration/Information:

Registration Questions: email office@interplay.org. For financial assistance: email info@interplay.org.

Leaders

Marla Durden

Marla came to InterPlay at the end of 2016 and has never stopped playing. She immediately began performing and was certified as a leader in May 2021. Marla is an alchemist, artist, energy shaman and coach who uses her gifts to create experiences that support personal empowerment, healing and transformation.

Christine Gautreaux, MSW

Christine (she/her) is dedicated to the pursuit of play, joy, art & social justice. Christine's superpowers include connecting people, helping folks manifest their dreams, standing up against injustice and using art to make a difference in the world.

She currently uses performance art, movement, poetry, storytelling and Interplay to address issues of oppression with women who are incarcerated, people living with severe and persistent mental illness and homelessness. She also works with activists and artists to maintain balance and self-care during these intense times we find ourselves living.

Pivoting with the times Christine has been called an expert on Zoom and utilizes this online platform to facilitate connection and ease in an online, interactive learning environment.

Christine Gautreaux holds a Bachelor's and Master's Degree in Social Work. She has professional experience with successful grant writing, community organizing and social media marketing. Christine is a life coach for caregivers who are burnt out and ready to take back their own life and make it delightful again. She is the co-author of Stillpoint: A Caregivers Playbook to find ease and to take a deep breath and reclaim joy and Women Connected in Wisdom: Stories and Resources Rooted in the 8 Dimensions of Wellness.