Become a certified InterPlay leader
Secrets of Leading InterPlay September 16-19, 2021 Online
InterPlay Leader Training Program
Theresa Cunningham
,
Jennifer Denning
,
Ginny Going
, and
Carolyn Renée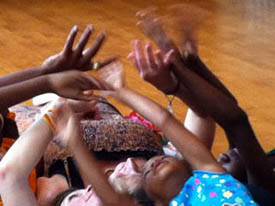 Online, ONLINE
Thursday, September 16, 2021 at 2:45 ET until Sunday, September 19, 2021 at 4:00 pm ET
The Secrets of Leading InterPlay is a multi-day workshop and a core component of the InterPlay Leader Training Program that leads to becoming a certified InterPlay leader. It is open to those who (1) have completed, or are in the process of completing, the InterPlay Life Practice Program, and (2) have enrolled in the InterPlay Leader Training Program.
The Secrets of Leading provides an overview of the InterPlay system and covers the underlying structure and philosophy of InterPlay:
~How are the forms taught? How do they work together?
~What is the ultimate outcome or effect of using InterPlay forms?
~How do you decide which forms to use at what times?
~How do you deal with people you find challenging?
The workshop includes presentation, interaction, and play.
Schedule
Thursday: 10:45 am - 4:00 pm ET
Friday:: 10:45 am - 4:00 pm ET
Saturday: 10:45 am - 4:00 pm ET
Sunday 10:45 am - 4:00 pm ET
Continuing Education Credit
Up to 15 CE credits for various healthcare and allied healthcare professions are available for those practicing throughout the U.S. and for educators only practicing in Illinois. CE pre-registration is required before the start of your event. Email Ginny Going at colleagues.interplay@gmail.com to APPLY for CEUs. There is a charge of $25 per program. CEUs are offered through Continuing Education Institute of Illinois.

Enrollment/Tuition:
SPECIAL $200 DISCOUNT Tuition for the InterPlay Leader Training Program is currently $1400 (a $200 discount). A $100 deposit is required to enroll in the Program, in addition to the $300 for the Secrets of Leading. Another $300 payment will be due when you register for a Teaching Practicum, at which time a payment plan for the remaining $700 balance will need to be set up with the Body Wisdom office. (Automatic monthly payments can be set up by credit card through the Body Wisdom office or you can arrange that automatic checks be sent by your bank.)
Financial Assistance
Diversity is a great gift in the InterPlay experience. Based on our commitment to Racial Equity and Transformation
(read our statement here).
and our understanding of other structural and personal inequalities that exist; Body Wisdom is committed to making our programs financially accessible. Financial considerations need not be a barrier to your participation. Financial support and flexible payment plans are available. Please email Stephanie@interplay.org (or call 510/465-2797), or feel free to speak to one of the leaders of this program.
Repeating the Program
Previously certified leaders (regardless of the version of the program you went through) receive a special reduced tuition rate. The current program has new information and resources that will enhance your teaching. If you have not taught much InterPlay or have not taught recently, you may appreciate this way of bringing your skills up to date.
Tuition for previously certified leaders is $800 for the full program, which includes the Secrets of Leading, the Teaching Practicum, the Mentored Teaching component and a copy of the
InterPlay Core Element Self-Study
. Tuition for either the Secrets of Leading InterPlay or the Teaching Practicum is $300. Cost of doing the Mentored Teaching component is $300.
Cost:

$300 for Secrets of Leading plus $100 to enroll in Leader Training Program (Previously certified leaders $300)
Registration/Information:

Registration Questions: email Lucia@interplay.org. For financial assistance: email Stephanie@interplay.org.