InterPlay Sustaining International Sisters
Online Global SIS
3rd Friday, 7:30 PM - 8:45 PM EST
Canan Arikan
and
Ruth Schowalter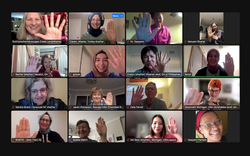 ONLINE
Third Friday of each month, 7:30 PM - 8:45 PM EST
We are a community of women from around the world connecting, sharing, and inspiring one another through InterPlay.
Sustaining International Sisters (SIS) invites all women to connect, inspire and support each other through InterPlay. No matter where you live, SIS invites you to meet online from all over the world!
Join us for two hours of community building through telling stories, playing with movement, and networking.
Zoom link: https://us06web.zoom.us/j/4047478377?pwd=cTVqRkV0ZU4xOVlJRk9MWmhGKzJidz09
Cost:

FREE! Donations accepted $10-$40! Paypal to interplaysis@gmail.com
Registration/Information:

Canan 404/966-2014, arikancnn@gmail.com, or Ruth 404/580-2392, ruthtruth@mindspring.com

Leaders

Canan Arikan

Canan Arikan is a software test engineer, women's advocate, and certified InterPlayer Leader. She has more than 20 years of volunteer work supporting and empowering women and youth. Arriving in the United States in 2016 as an asylee, she needed a way to heal, release, and relax. InterPlay tools and forms helped her through this healing process with fun and joy, without any judgement or criticism. Through her training and the formation and operation of Sustaining International Sisters (SIS), she exformed the trauma of moving unexpectedly to a different country by moving, singing, shaking, witnessing, running, and stopping. She listened to many stories of SISters. She practiced affirmation and looking for the good. She was delighted to share all of these treasures with other women from around the world. Canan and her former English teacher Ruth Schowalter founded InterPlay SIS to bring together asylum seekers, other international women, and U.S. citizens to connect, inspire, and learn from one another through InterPlay. In 2019, SIS began Online Global SIS to offer InterPlay to women worldwide. In 2020, InterPlay SIS became a 501c3 non-profit with the Body Wisdom Office. Canan holds an MBA and completed graduate studies for a PhD(ABD) in Management and Organization.

Ruth Schowalter

Ruth Schowalter, visionary folk artist, communications educator, and creativity coach, co-founded InterPlay Sustaining International Sisters (SIS) with Canan Arikan in 2018. In 2019, SIS began Online Global SIS to offer InterPlay to women worldwide. In 2020, InterPlay SIS became a 501c3 with the Body Wisdom Office. As a certified InterPlay Leader and Life Practice Program Leader, Ruth is dedicated to bringing together women from diverse backgrounds (geographical, cultural, spiritual, racial, educational, and generational) through play. Within InterPlay, she found the structure to connect women in ways that support them and allows them to share, learn, and inspire one another. Ruth has an M.S. in Applied Linguistics and ESL and taught international students English communication at the university level for 30 plus years, applying InterPlay to her instruction since 2012. She found that InterPlay transformed her language classroom into a community of enlivened and engaged learners. She also brings her expertise to scientists and professionals in workshops, offering them fun new ways to communicate their research and ideas in public presentations. As an artist, Ruth stays engaged in the creative process and established the The Daily Creative Practice Group a decade ago on Facebook to insure that her own art, dreams, and creative ideas get priority while supporting others creative engagement. She is in her fourth year of offering a weekly Dance Chapel through Cynthia Winton-Henry's Hidden Monastery where she leads participants to blend movement, prayer, and making marks. In 2022, Ruth co-led a monthly Ensoulment Creativity Studio with Cynthia Winton-Henry. She exhibits her visionary work both online and offline. Once called a "sophisticated primitive" artist, her colorful figurative paintings and drawings express her inner world both from dreams and psychological meanderings. She lives in Decatur with her author husband, Anthony J. Martin and two cats, Tao and Sapelo.