InterPlay Sustaining International Sisters
Online Global SIS
3rd Friday, 7:30 PM - 8:45 PM EST
Canan Arikan
and
Ruth Schowalter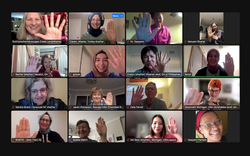 ONLINE
Third Friday of each month, 7:30 PM - 8:45 PM EST
We are a community of women from around the world connecting, sharing, and inspiring one another through InterPlay.
Sustaining International Sisters (SIS) invites all women to connect, inspire and support each other through InterPlay. No matter where you live, SIS invites you to meet online from all over the world!
Join us for two hours of community building through telling stories, playing with movement, and networking.
Zoom link: https://us06web.zoom.us/j/4047478377?pwd=cTVqRkV0ZU4xOVlJRk9MWmhGKzJidz09
Cost:

FREE! Donations accepted $10-$40! Paypal to interplaysis@gmail.com
Registration/Information:

Canan 404/966-2014, arikancnn@gmail.com, or Ruth 404/580-2392, ruthtruth@mindspring.com

Leaders

Canan Arikan

Canan Arikan is an entrepreneur, women's advocate, and InterPlayer Leader-in-Training. She has more than 16 years of volunteer work supporting and empowering women and youth. Since arriving in the United States four years ago, she has earned the Level-1 Certificate in Applied InterPlay and co-created 4 InterPlay workshops and one English-language 5-workshop series to support international women and her wider community. In 2018, asylee Canan and her collaborator Ruth Schowalter founded "Sustaining International Sisters" (SIS) to bring together asylum seekers, other international women, and U.S. citizens in the metro-Atlanta. In 2019, they launched online Global SIS: InterPlay to continue to connect with and support women who left Atlanta and returned their countries. Canan holds an MBA and completed graduate studies for a PhD in Management and Organization.

Ruth Schowalter

Ruth Schowalter, visionary folk artist, communications educator and creativity coach, started The Daily Creative Practice to insure that her own art, dreams, and creative ideas get priority. Within InterPlay, an improvisational system that unlocks the wisdom of the body, she found all the tools she needed to put grace and an ethic of play at the center of life.