Stir our communal creativity!
Cambridge Play: Deeper Dive
Next open session is December 8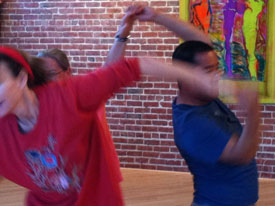 Cambridge, MA
2nd & 4th Wednesdays; next open sessions December 8 & 22.
October & November signups are full and we'll have an open session to welcome ALL in December. Join a consistent group and together have our sounds, our movement, our stories, Breathe and Stillness. Come stir your creativity & resilience and concoct communal courage so we can show up to this world that needs us. Be big, be small; be loud, be quiet - all are welcome.
Cost:

$10-15 for December drop-in. Don't let money keep you away.
Registration/Information:

ccking.interplay@gmail.com

Venue
First Church Cambridge MA
11 Garden Street
Cambridge, MA
Parking at Episcopal Divinity School and on street. T Stop is Harvard Square on the red line
Leaders
CC King
CC King is a certified InterPlay Leader and trainer, Boston-area coordinator and a memory play specialist. She has been practicing the joyous unfolding of Interplay for over 20 years. CC is an expressive therapist, visual artist, teacher and community activist. As the co-founder of a local arts and environment program, she facilitates workshops in organic sculpture and organizes public performance. Play with elders and Memory Cafes are a special interest, as are cancer support and racial healing & transformation. Her background includes nonprofit management, art and family therapy, trauma-informed InterPlay and a life-long commitment to finding sustenance, creative activism, and joy in the natural world.