A Monthly Movement, Art, Writing Retreat
Ensouled Creativity Studio
Explore the Wisdom of Body and Soul
Ruth Schowalter
and
Cynthia Winton-Henry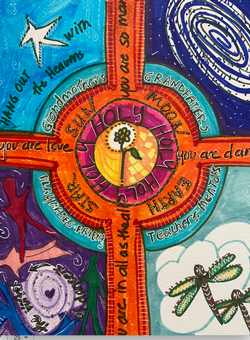 Online, ONLINE
3rd Mondays 2:30 to 4:15 pm pacific starting January 17 -Dec 19, 2022
Give yourself a monthly retreat with prompts for movement, drawing and writing. Then, drop into some side by side silent play to explore the theme. Enjoy your prefered medium. Ruth offers support as needed. We end with time to share, notice, and bless the offerings.
We will play with monthly themes from Cynthia Winton-Henry's Art of Ensoulment Course. Anyone can join this great intro to the 12 arts of ensoulment.
Link here to see the 12 arts..
We write a haiku, pencil a sketch, a dream, a sensation.
We shake and stretch and breathe and are
Mostly still.
Allowing this to be our ebbs and flows,
Tender nurturance and uplifting confidence.
Building on the edge of being.
Sustained without stops.
Feeling the push and pull, the desire to
Throw it,
Get lost in it,
Run or
Shove it away.
Being alive in what I thought were empty gaps.
Kay Rhode, Art of Ensoulment Course Participant.
Cost:

25-40 sliding scale

Leaders

Ruth Schowalter

Ruth Schowalter, visionary folk artist, communications educator and creativity coach, started The Daily Creative Practice to insure that her own art, dreams, and creative ideas get priority. Within InterPlay, an improvisational system that unlocks the wisdom of the body, she found all the tools she needed to put grace and an ethic of play at the center of life.

Cynthia Winton-Henry

Cynthia Winton-Henry, co-founder of InterPlay with Phil Porter, has researched "what the body wants" in the arts, in jails, shelters, slums, hospitals, churches, businesses, classrooms, doctoral programs in theology and the arts, and in multicultural education. She develops somatic curriculums to address racism, leadership for the Earth, and spiritual intelligence with an eye to supporting millennials. A featured speaker on the Body Intelligence Summit and a keynoter at conferences, Cynthia is the author of What the Body Wants, Having It All: Body, Mind, Heart & Spirit Together Again at Last; Dance - A Sacred Art: Discovering the Joy of Movement as Spiritual Practice; and Chasing the Dance of Life: A Faith Journey. Currently writing on Body Wisdom and Social Justice and on "Ensoulment," she coaches leaders seeking spiritual intelligence for our time at cynthiawinton-henry.com.