CHANGE YOUR LIFE ~ CHANGE YOUR PRACTICE
InterPlay Life Practice Program for Men (In Person!) 2022
OPEN NEW FRONTIERS
Billy Amoss
and
Tom Henderson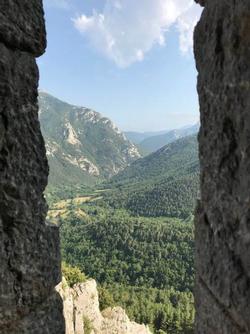 Germantown, MD
Program begins in September
(Details TBD)
Assisted by Douglass Farnum
This program is an opportunity to
use InterPlay forms and ideas to explore our rapidly changing times from a masculine perspective.
Discover with other men how the InterPlay tools based in movement, contact, voice, storytelling and stillness
create connection and new beginnings.
Learn with experienced InterPlay leaders to bring body, mind, heart and spirit together to
tap into energy and active curiosity in your daily life.
Although some previous experience with InterPlay is encouraged,
there are no prerequisites for taking part in the InterPlay Life Practice Program.
The Elements of the Life Practice Program for Men

• The program begins with the Secrets of InterPlay for Men, a multi-day event included in your tuition. If you did not attend the one in DC May 2022, you can attend any other Secrets of InterPlay weekend at any time. This is an important element if you wish to go on to Leader Training.

• Three Weekend Gatherings starting in September (details TBD) with your Life Practice Program group for play, presentation, discernment, and interaction, where you will have a chance to explore new creative possibilities in a supportive community.

• Receive three focus sessions, during which you receive personal support from the program leaders to learn how to access your body wisdom, learn a new tool/skill, and apply it to whatever situation you desire.

• Reading and writing assignments which will help you apply InterPlay insights to your own life.

• A Self-Study of several of the elements of the InterPlay system that will give you a more in-depth understanding of how InterPlay works.

Repeating the Program
Anyone who has previously completed the Life Practice Program is eligible for the $1,000 repeaters rate. You may also repeat the weekends only (without Secrets) for $750.

COVID Policy: Vaccinations are required. We want you to be tested before you arrive. We will be requiring masking for some of the forms. The room is large and will have two air circulators.


Financial Assistance
Diversity is a great gift in the InterPlay experience. Based on our commitment to Racial Equity and Transformation (read our statement here) and our understanding of other structural and personal inequalities that exist, Body Wisdom is committed to making our programs financially accessible.

Financial considerations need not be a barrier to your participation. Financial support and flexible payment plans are available. Please email info@interplay.org (or call 510/465-2797), or feel free to speak to one of the leaders of this program.


Life Practice Program Attendance
Community building is an integral part of the InterPlay system. To experience the most out of a Secrets of InterPlay weekend or the Life Practice Program, we recommend that you attend all of the sessions. This immersion program into the forms and tools of InterPlay is most effective when the group can stay together over time. If you are considering becoming an InterPlay leader, participation and attendance for the full program, including attending a Secrets of InterPlay weekend, will be necessary to complete the Life Practice Program, which is the first step in becoming a certified InterPlay leader. If you have questions about this please visit: InterPlay Leader Training Program.


Continuing Education Credit
Up to 40 CE credits for various healthcare and allied healthcare professions are available for those practicing throughout the U.S. and for educators only practicing in Illinois. CE pre-registration is required before the start of your event. Email Jane at interplaychicago@sbcglobal.net to APPLY for CEUs. There is a charge of $25-$40 per program. CEUs are offered through Continuing Education Institute of Illinois or R. Cassidy Seminars.


Cost:

$2,250/$1,000 for repeaters (includes the Secrets of InterPlay) plus room and board for each weekend incl. single rooms.
Registration/Information:

Registration questions: email office@interplay.org. For financial assistance: email info@interplay.org.

Venue
Wellspring Retreat Center
11411 Neelsville Church Rd.
Germantown, MD 20876
Wellspring Retreat Center is located at Dayspring, a 200-acre farm, lake and woodland area owned by Church of The Savior . Approximately 30 minute drive northwest of Washington, D.C
Leaders
Billy Amoss
Billy is a certified InterPlay leader in the Washington, D.C. area. Together with Tom Henderson Billy has led InterPlay retreats for men for over 15 years. These retreats demonstrate to him year after year that InterPlay offers a unique set of tools for "ordinary guys to do extraordinary things." Billy is the Executive Director of the Rostropovich Foundation, a DC-based non-profit organization that finances and manages international children's health programs.
Tom Henderson
Tom is a certified InterPlay leader, community artist, organization development consultant and retired pharmaceutical chemist. With his wife, Ginny Going, he is co-owner of Colleagues, dedicated to enabling individuals and organizations to thrive. Ginny and Tom also co-directed the Interplay performance company Off the Deep End Ensemble for 15 years beginning in 1997.