For those who have attended a Secrets of Leading InterPlay
InterPlay Teaching Practicum - AUGUST 11-14 2022
InterPlay Leader Training Program
Kate Amoss
,
Theresa Cunningham
, and
Coke Tani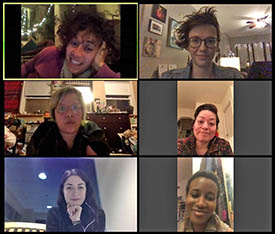 Online, ONLINE
Thursday, August 11 at Noon ET thru Sunday, August 14 at 2:30 pm ET
The InterPlay Teaching Practicum is a core component of the InterPlay Leader Training Program. It is open to those who have enrolled in the Leader Training Program and attended a Secrets of Leading InterPlay event. Previously certified InterPlay leaders may also attend.
The Practicum is a multi-day workshop that includes practice teaching by participants with self-evaluation and feedback from leaders and other participants, information on best practices in designing and leading InterPlay events, and teaching resources such as sample class outlines.
Note: After attending a Secrets of Leading and before attending a Teaching Practicum, participants complete 12 of the Self Study Core Elements and record their completion on the InterPlay website Leaders Circle form. Access to the Leaders Circle is provided after the Secrets of Leading InterPlay. For questions about this requirement, contact Ginny Going, Leader Training Program coordinator, at ginny.going@gmail.com.
Schedule (all times ET)
Thursday, Friday & Saturday
Noon - 2:15 pm & 3:30 pm - 5:45 pm
Sunday, Noon - 2:30 pm
Continuing Education Credit
13 CE credits for various healthcare and allied healthcare professions are available for those practicing throughout the U.S. and for educators only practicing in Illinois. CE pre-registration is required at least 2 weeks before the start of your event. Notify the Body Wisdom office (510) 465-2797 at the time of registration that you are requesting CEUs. A fee of $25 per program will be due at the time you register. CEUs are offered through Continuing Education Institute of Illinois.
The Teaching Practicum is included in the tuition for the Leader Training Program. A payment of $300 toward the total tuition is due before the Practicum and a payment plan for the balance needs to be in place. The payment button below includes options for paying the balance of the Program or you may contact Lucia@interplay.org to set up a payment plan.
The tuition for repeating the Practicum or for previously certified leaders is $300.
To register and/or set up a payment plan with your credit or debit card, use this link:
Register here with credit/debit card.
Please email Lucia@interplay.org with any questions and to confirm the details of your payment plan.
Cost:

A payment of $300 and a payment plan for the balance of the Leader Training Program tuition are due before the Practicum
Registration/Information:

To register: use the Buy Now button above. For financial assistance: email Angela at info@interplay.org.

Leaders

Kate Amoss

Kate Amoss, MA, LCPC, is an InterPlay Teacher and Professional Counselor in private practice. Trained in archetypal depth psychology, she has an abiding curiosity in all things hidden below surfaces -- deep roots, bedrock truths, neuro-biological processes, ancestral antecedents, and ancient cataclysms. For her, InterPlay has offered the best toolbox of forms and practices with which to excavate the mysteries of ourselves and our world. She uses applied InterPlay with clients in groups, workshops, and individually. Since 2005, she has been co-leading the InterPlay Life Practice Program in Washington DC.

Theresa Cunningham

Theresa Cunningham is an award-winning actor, singer, dancer, director, and teaching artist who does math for fun. A Certified Interplay Leader, she believes in the power of play as a tool for exploration, healing, and community.

Coke Tani

Coke Tani, is a movement and literary artist, spiritual companion, and teacher/facilitator. In addition to having co-led the Secrets of InterPlay & Life Practice Program, Coke served as InterPlay's first Liaison to Leaders of Color, where she introduced the expansion of InterPlay forms for embodied anti-racism education, and co-created InterPlay's first BIPOC Daylong Retreat. Currently, Coke leads InterPlay in communities of color and faith-based settings, as well as in 1:1 focus sessions, She serves on InterPlay's Culture & Curriculum Pod of the Racial Equity and Transformation Committee. In former years, Coke was a community-based therapist and solo theater artist. She holds an MSW, MFA and MDiv.