DC Open Gathering
A full Day of In Person Play
Theresa Cunningham
,
Douglass Farnum
,
Liz Lescault
,
Mike Perz
, and
Kathryn Sparks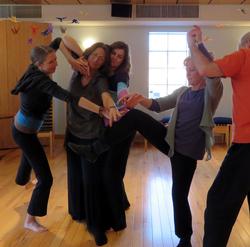 Washington, DC
First Saturdays of the month / September 2022 -April 20223
The Open Gathering is a full day event, meeting on the first Saturday of each month from September 2022 through April 2023.The DC Open Gathering is open to all. No previous experience is required. Certified InterPlay leaders will guide participants through a series of InterPlay forms that anyone can do. Our leaders bring their own style and grace to the InterPlay table exploring different themes and concepts using InterPlay forms and philosophy. InterPlay celebrates the creativity in every one of us and reminds us to play and embrace life, expand our personal awareness and discover our full potential. Leaders guide participants through a series of playful storytelling, movement, and vocalization. Each person decides how much or how little to do based on their own comfort level. Interplay helps us explore our own new possibilities. Dare a little or a lot depending on how you feel on the day. InterPlay can move you in surprising ways, much like the quiet reflection of watching a sunset or the exhilaration and discovery of climbing a mountain. InterPlay was created by Cynthia Winton-Henry and Phil Porter and is practiced throughout the world. Covid Policy: full vaccination and boosters required. Bring your masks.
Cost:

$25.00 for the day
Registration/Information:

lizlescault@gmail.com

Leaders

Theresa Cunningham

Theresa Cunningham is an award-winning actor, singer, dancer, director, and teaching artist who does math for fun. A Certified Interplay Leader, she believes in the power of play as a tool for exploration, healing, and community.

Douglass Farnum

Since retiring, play deprived Douglass works hard at doing nothing. He finds that interplay feeds his inner growth and complements his meditation and Non Violent Communication (NVC) practices. After 10 years of dabbling in interplay Doug recently became an interplay leader.

Liz Lescault

Liz Lescault, a visual artist and sculptor, has practiced and taught art for over 40 years. Liz is Coordinator of the DC InterPlay Metro Region with Kate Amoss and is a member of the DC InterPlay Board. Currently, Liz melds her art, teaching and personal philosophy with InterPlay wisdom, tools and forms. Liz also leads InterPlay for elders with chronic illness and cognitive disabilities at Iona Senior Center, as well as leading InterPlay for Smith Center for Healing and the Arts offering programs for adults living with cancer and their caregivers.

Mike Perz

Mike is a certified InterPlay leader and leads regularly for the InterPlay DC Open Gatherings. Currently he is leading InterPlay on Zoom. He also performs on an improv comedy team at Dojo Comedy. He has been incorporating/adapting improv comedy exercises into InterPlay forms and hopes to bring some of the InterPlay tools and forms to improv comedy. His other passions include swing and blues dancing, and bicycling.