dance your prayers with Marla Durden
DANCE CHAPEL: Divine Love Rooted
body prayers for all our relations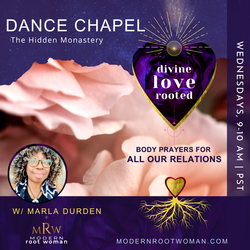 Online, ONLINE
EVERY Wednesday, 9-10 AM PDT
Come join us as we dance our prayers for ourselves, Ancestors, Big Momma and all our relations. An hour of poetry, inspired music, connection and indigenous wisdom creates a circle of belonging and healing. Join me at Wednesday Rising Dance Chapel, Divine Love Rooted: body prayers for all our relations... WEDNESDAYS, | 9-10am PDT. This space is offered on a donation basis through Cynthia Winton-Henry's Hidden Monastery. sacred space to safely be with what they are experiencing. Come explore the dance chapel for an hour. Light a candle Invoke intentions for family, community, and world. Breathe and warm-up your dancing spirit. Notice, move, share grace and gratitude. Hear and share poetry and music. Dance on behalf of others. Find community and resources. EVERY WEDNESDAY, 9-10am PST + that's 11am-12pm CST | 12-1pm EST DANCE CHAPEL LINK:https://us02web.zoom.us/j/8257481773?pwd=R0c2dmN3dDhsbnMxYUh1aEpPNkZiQT09 FOR INFO Call or Text Marla at (206) 414-9009 email ModernRootWoman@gmail.com for weekly invitations.
Cost:

No charge | Donations Welcome to https://paypal.me/marladurden1
Registration/Information:

Contact Marla at (206) 414-9009 or email ModernRootWoman@gmail.com

Leaders

Marla Durden

Marla came to InterPlay at the end of 2016 and has never stopped playing. She immediately began performing and was certified as a leader in May 2021. Marla is an alchemist, artist, energy shaman and coach who uses her gifts to create experiences that support personal empowerment, healing and transformation.