Let Your Body show you the Way Through
Holy Play Dates
One-on-one sessions to connect with the Whole and Holy in you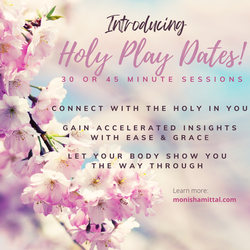 Online, ONLINE
By appointment only.
Have the intimatcy and insights of a focus session in this on-line one on one format. A one-on-one holy play date focuses solely on YOU and what you need or want to receive. Clear out the gunk and connect to your natural state of being. Using tools of InterPlay (Embodied Play), creatively explore a question, issue or conflict and discover the embodied possibilities awaiting you. This is about you discovering the choices that feel most "true": wise, direct and uplifting. Move forward with your Whole Being, with heart-connection and even Joy. In these sessions Monisha also shares any transmisisons she receives from the frequencies you are emanating. 30 minute or 45 minute sessions available. 30 minute sessions are suggested for experienced InterPlayers. 45 minute sessions include guided activations and sacred space to enhance alignment with your Higher Self. You can learn more about pricing on this page:
https://monishamittal.com/one-on-ones.html
Cost:

Pricing dependent on number of sessions. See link in description.

Leaders

Monisha Mittal

Monisha is a somatic coach and Applied Play Practioner who comes to Play as a recovering over-achiever. She has always cherished bringing out the unique expression and voice of others, secretly recognizing it as an expression of their Divine self. Inspired by the freedom, connection and laughter InterPlay has brought to her life and to those it touches, she enjoys connecting people to their Divine power and presence for greater expression and abundance in the world. Monisha is a certified Sacred Depths coach and leads the Hidden Monastery Dance Chapel every Tuesday. Contact her about tapping into your unique inner guidance through one-on-one sessions (your own Holy Play Dates!).