4 DAYS OF DEEP PLAY AND LEADERSHIP WISDOM
Online Leaders Gathering March 2023
Open to all Life Practice and Leader Training participants and grads
Christine Gautreaux, MSW
,
Phil Porter
, and
Angela Urata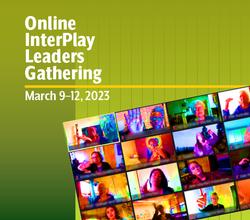 ONLINE
Thursday–Sunday • March 9–12, 2023 • Schedule below
This year we are having two Leaders Gatherings and the first will be held online March 9–12, 2023! This Gathering will be cheaper, easier to get to, and will allow a wider range of folks to attend. You can pick and choose the time slots that work best for you and match your "Zoom attention span."
More about the in-person Leaders Gathering in June in North Carolina here...
InterPlay co-founder Phil Porter, who will be stepping back from his leadership position in the organization soon after the Gathering, will be providing some of the leadership and there will be opportunities to celebrate him during the Gathering. We will have whole group sessions, opportunities to move together in large and small groups, a whole range of informative, interesting, and playful workshops, and wonderful opportunities to see old friends and make new ones.
This event is open to all Life Practice Program and Leader Training Program grads as well as those currently taking part in either program (or who took part in earlier versions of either program). Art & Social Change grads are also welcome to attend.
Schedule
Sessions are scheduled in a way to accommodate most North American times zones and also provide a bit of overlap with time zones that work for participants in other locations. The times listed below will also include breaks between sessions.
Thursday–Sunday, March 9–12, 2023
Thu • 4–6 pm Pacific Time / 7–9 pm Eastern Time
Fri–Sat • 9 am – 6 pm PT / noon–9 pm ET
Sun • 9 am – 1 pm PT / noon–4 pm ET
Registration
Tuition is $250. Reduced tuition is available as well as payment plans. Contact Angela at info@interplay.org for financial assistance and/or to set up a payment plan.
Leaders who offer a workshop will receive an additional $50 off registration if you submit a workshop by February 17. Use the payment button below to both pay and register.
You can submit a workshop here...
Register yourself and, if you can, help someone else with a full or partial scholarship!
Cost:

$250
Registration/Information:

Use the payment button above to register and pay. Questions? office@interplay.org

Leaders

Christine Gautreaux, MSW

Christine (she/her) is dedicated to the pursuit of play, joy, art & social justice. Christine's superpowers include connecting people, helping folks manifest their dreams, standing up against injustice and using art to make a difference in the world.

She currently uses performance art, movement, poetry, storytelling and Interplay to address issues of oppression with women who are incarcerated, people living with severe and persistent mental illness and homelessness. She also works with activists and artists to maintain balance and self-care during these intense times we find ourselves living.

Pivoting with the times Christine has been called an expert on Zoom and utilizes this online platform to facilitate connection and ease in an online, interactive learning environment.

Christine Gautreaux holds a Bachelor's and Master's Degree in Social Work. She has professional experience with successful grant writing, community organizing and social media marketing. Christine is a life coach for caregivers who are burnt out and ready to take back their own life and make it delightful again. She is the co-author of Stillpoint: A Caregivers Playbook to find ease and to take a deep breath and reclaim joy and Women Connected in Wisdom: Stories and Resources Rooted in the 8 Dimensions of Wellness.

Phil Porter

Phil is one of the founders of InterPlay. He is a teacher, performer, writer, and organizer. With Cynthia Winton-Henry he is the co-founder of WING IT! Performance Ensemble, and has written several books, some in collaboration with Cynthia, including Having It All: Body, Mind, Heart & Spirit Together Again at Last and The Slightly Mad Rantings of a Body Intellectual Part One. Phil is particularly interested in the use of InterPlay in organizational life, and believes that InterPlay can be a powerful tool to create communities of diversity and peace.