Sipping from the nectar of Embodied Play
Embodying Playful Enquiry
Playing with our Depths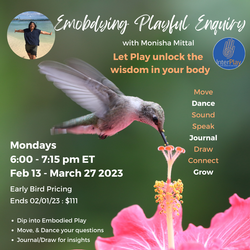 ONLINE
Mondays from 6 - 7:15 ET beginning February 13th - March 27th.
Whether you are new to embodied practice or are experienced with InterPlay, this on-line class offers you a weekly opportunity for regular connection to your unique body wisdom in playful community.

Life has a way of throwing us in situations or challenges we don't necessarily know how to respond to. This can take a toll on our nervous system, thoughts and emotions. Is it possible to play with life's challenging questions? Yes it is.

Einstein said, "Play is the highest form of Research". When there is no right or wrong, we can even play with our Depths. Unlock the hidden potential of your body's wisdom through the transformative power of play in this 7-week InterPlay class starting February 13th.

Einstein also saw we cannot solve problems from the same level of thinking that created them. We need to shift to a different frequency to solve them. As hummingbirds know, Play is this frequency! Let Play act like a key to unlock your stores of body wisdom. Rather than let worry or stress take over, you can use movement, sound, and storytelling to tap into your inner creativity and find insight to life's challenges. Come and make room for something new and gain more playmates. In the process, find more of you.

What's Included in the Embodying Playful Enquiry workshop:
Each week participants will play with different movement, voice and storytelling forms from InterPlay. With music and poetry you will move as individuals, as partners and as a group.Then, participants move and dance in playful enquiry with a question or challenge with time to journal or draw for greater insight. Each class ends with an embodied "blessing" for the group.
Bonus: In addition, each participant signing up for the 7 week package receives a bonus one-on-one focus session or deep dive with Monisha on a personal topic of their choice.
If you are interested in attending on a drop-in basis, please contact Monisha at minicunning@gmail.com
In this play group, participants use InterPlay forms and tools to:
Make time to move and groove.
Experience the Safety and Breathing room of Play (and non-verbal communication).
Play lightly and with depth
Find surprise and other discoveries from the "sneaky deep"
Gain playmates and experience plauthentic connection
Bonus: Participants who register in advance receive a bonus private one-on-one session to deep-dive on a question of personal interest.

Cost:

Early Bird Price through February 2nd: $111; Regular Price: $135
Registration/Information:

https://www.eventbrite.com/e/520459286737

Leaders

Monisha Mittal

Monisha is a somatic coach and Applied Play Practioner who comes to Play as a recovering over-achiever. She has always cherished bringing out the unique expression and voice of others, secretly recognizing it as an expression of their Divine self. Inspired by the freedom, connection and laughter InterPlay has brought to her life and to those it touches, she enjoys connecting people to their Divine power and presence for greater expression and abundance in the world. Monisha is a certified Sacred Depths coach and leads the Hidden Monastery Dance Chapel every Tuesday. Contact her about tapping into your unique inner guidance through one-on-one sessions (your own Holy Play Dates!).