Creativity, Community, Change
Loving the World All Over Again 2023:
A Gathering for DC InterPlayers
Theresa Cunningham
,
Kate Amoss
,
Billy Amoss
,
Douglass Farnum
,
Monisha Mittal
, and
Liz Lescault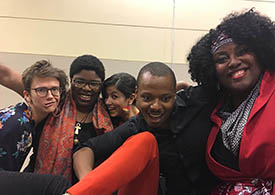 Germantown, MD
June 2 - 4, 2023

Friday: 6:30pm - 9:00 pm(includes dinner)

Saturday: 9am- 9pm (includes three meals, and downtime)

Sunday: 9am-1pm (includes two meals)
"Anyone can slay a dragon, but try waking up everyday and loving the world all over again. That's what takes a REAL hero." Brian Andreas
Whether you are new to InterPlay, or you've been around a long time, join us for the magical medicine that is InterPlay. We will eat healthy delicious food and weave community, all in the beautiful natural surroundings of Wellspring Retreat Center. Be a REAL hero and show up to fall in love with the world all over again through moving, sounding and telling stories together.
COVID POLICY: Testing immediately prior to the event is required. Masks optional.
Cost:

$325 for a single room with meals; $275 for a double room with meals. Some scholarship money is available.
Registration/Information:

Kate Amoss - katamoss@gmail.com Full registration requires a down-payment of $100

Venue
Wellspring Retreat Center
11411 Neelsville Church Rd.
Germantown, MD 20876
Wellspring Retreat Center is located at Dayspring, a 200-acre farm, lake and woodland area owned by Church of The Savior . Approximately 30 minute drive northwest of Washington, D.C
Leaders
Theresa Cunningham
Theresa Cunningham is an award-winning actor, singer, dancer, director, and teaching artist who does math for fun. A Certified Interplay Leader, she believes in the power of play as a tool for exploration, healing, and community.
Kate Amoss
Kate Amoss, MA, LCPC, is an InterPlay Teacher and Professional Counselor in private practice. Trained in archetypal depth psychology, she has an abiding curiosity in all things hidden below surfaces -- deep roots, bedrock truths, neuro-biological processes, ancestral antecedents, and ancient cataclysms. For her, InterPlay has offered the best toolbox of forms and practices with which to excavate the mysteries of ourselves and our world. She uses applied InterPlay with clients in groups, workshops, and individually. Since 2005, she has been co-leading the InterPlay Life Practice Program in Washington DC.
Billy Amoss
Billy is a certified InterPlay leader in the Washington, D.C. area. Together with Tom Henderson Billy has led InterPlay retreats for men for over 15 years. These retreats demonstrate to him year after year that InterPlay offers a unique set of tools for "ordinary guys to do extraordinary things." Billy is the Executive Director of the Rostropovich Foundation, a DC-based non-profit organization that finances and manages international children's health programs.
Douglass Farnum
Since retiring, play deprived Douglass works hard at doing nothing. He finds that interplay feeds his inner growth and complements his meditation and Non Violent Communication (NVC) practices. After 10 years of dabbling in interplay Doug recently became an interplay leader.
Monisha Mittal
Monisha is a somatic coach and Applied Play Practioner who comes to Play as a recovering over-achiever. She has always cherished bringing out the unique expression and voice of others, secretly recognizing it as an expression of their Divine self. Inspired by the freedom, connection and laughter InterPlay has brought to her life and to those it touches, she enjoys connecting people to their Divine power and presence for greater expression and abundance in the world. Monisha is a certified Sacred Depths coach and leads the Hidden Monastery Dance Chapel every Tuesday. Contact her about tapping into your unique inner guidance through one-on-one sessions (your own Holy Play Dates!).
Liz Lescault
Liz Lescault, a visual artist and sculptor, has practiced and taught art for over 40 years. Liz is Coordinator of the DC InterPlay Metro Region with Kate Amoss and is a member of the DC InterPlay Board. Currently, Liz melds her art, teaching and personal philosophy with InterPlay wisdom, tools and forms. Liz also leads InterPlay for elders with chronic illness and cognitive disabilities at Iona Senior Center, as well as leading InterPlay for Smith Center for Healing and the Arts offering programs for adults living with cancer and their caregivers.