Meet new friends and discover the life practice of body spirit play.
InterPlay @ Temple Buddhist Center
Deep Restorative Play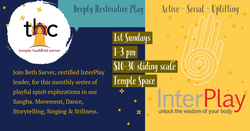 Kansas City , MO
First Sundays of the month from 1:00 to 3:00 pm
We all need some deeply restorative play. Join Beth Sarver, a certified leader, specializing in accessible, trauma-informed, and applied InterPlay. This session is meant to be a perfect fit for beginners and experienced InterPlayers, so if you have been curious about InterPlay or you have been longing to come to play... now is the time. This monthly series is hosted at the Temple Buddhist Center in the "Temple Space" on the lower level of Unity Temple and is wheelchair accessible through the entrance on the South Side of the building. Parking for this entrance is available on the street or on the 1st floor of the parking garage, just west of the temple. There is a sliding scale fee of $10 to $30, pay as you are able. Register here: https://interplay-ti.pushpayevents.com/ You can also pay at the door in cash or via a QR code that will take you to the above link.
Cost:

$10-$30 sliding scale
Registration/Information:

913/563-8827

Venue
Temple Buddhist Center
707 W 47th St
Kansas City , MO 64112
Temple Buddhist Center is located in Unity Temple on the Plaza in KCMO. We will be playing in the "Temple Space" on the lower level. This room is wheelchair accessible through the south side entrance to Unity Hall, which is right next to the Temple Space. Parking is available in a parking garage just west of the Unity Temple. If you are going to be coming in the wheelchair-accessible entrance, the 1st floor of the parking garage is best. There is a sidewalk that runs along the southside of the building and will take you right to the entrance to Unity Hall.
Leaders
Beth Sarver
Beth Sarver received her Bachelors in Fine Art with an emphasis in Sculpture and Arts Education and is a certified leader of InterPlay; which is a pedagogy for cultivating mindfulness through creativity, performance and play. A regional trainer in Trauma Informed Care, Trauma Sensitive Schools and Building Resilience Culture, Beth has over 13 years of experience as an artist educator in a wide variety of non-traditional settings including: juvenile detention centers, foster care group homes and fine art studios of all kinds. Beth is also an award winning Youth Mentor for the Juvenile Rehabilitation Administration of Seattle, WA.