Honoring the Body
Transformational Tools for Living Radical Self-Love
Sharie Bowman
and
Kawika Harold Costa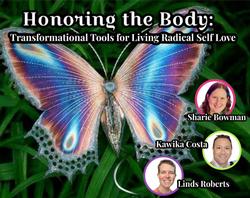 Seattle, WA, ONLINE
Sundays 5-6:30 pm Pacific, Nov. 19, Dec. 3, Dec. 17, Jan. 7, Jan. 21, and Feb. 4
Led by Kawika Costa and Sharie Bowman Assisted by Linds Roberts
How can we honor our bodies and enjoy more of our embodied experience through radical self-love?
This group meets online every other week for an hour and a half to explore this question. Together we'll invite our bodies into playful experiential practices that are woven together with awareness of our body's wisdom and experiences. We will be drawing from InterPlay Body Wisdom Tools and forms. In addition, the series includes inspiration and optional readings from The Body is Not an Apology and workbook by Sonya Renee Taylor.
These tools allow us to explore radical self-love and question some of the messages we've received about our bodies from our society, including gender, race, sexuality, ability, aging, and shame. Together, we look at the messages we've received around our bodies, and meet these messages with our own inner wisdom. All bodies welcome!
Cost:

Suggested Donation: $25 per class or $125 per series (All proceeds benefit InterPlay Seattle Scholarship Fund)
Registration/Information:

Sharie at interplaynorthwest@gmail.com

Leaders

Sharie Bowman

Sharie Bowman, MA, LMHC is a Mental Health Counselor and also InterPlay's Regional Coordinator for the Pacific Northwest.  In 2006, Sharie completed her training as an InterPlay leader and also received her degree in mental health counseling, so InterPlay and counseling have been woven together in her bodyspirit from the start.  She finds InterPlay to be foundational in building and maintaining her personal resilience, as well supporting her work with clients.  In her private practice she regularly weaves InterPlay's life-enhancing forms and philosophies with counseling wisdom to help individuals and families thrive.

Prior to 2006, Sharie worked as a high school math teacher and found InterPlay to be the best Teacher Training she ever received.  The improvisational skills that she developed immediately brought more play, creativity, and expression to her teaching as well as to classroom management.

Now Sharie finds great joy in bringing her organizational and instructional skills to the InterPlay classroom, and she often leads the foundational InterPlay Life Practice Program and mentors new leaders. She relishes sharing the joy of InterPlay far and wide, and supporting each participant in integrating InterPlay into their own lives!

Kawika Harold Costa

Rev. Kawika (Ka-Vee-ka) Harold Costa first joined InterPlay in 2018 and loved it. He is a licentiate minister with the Center for Spiritual Living and the President and Co-Artistic Director of Playback Theater Northwest where he rebuilt the entire troupe in 1996. He was born and raised in Hawaii and is a graduate of the University of Washington in Business Administration. He has been involved with theater since 1975 and his acting credits include many stage plays, movies and TV extra roles for Paramount, Warner Brothers, FOX and NBC. Kawika now lives in the Sandpoint area of Seattle and is known for his warm heart and Polynesian smile. Kawika is grateful to have two incredible children, two stepchildren and four grandchildren. He loves to build community and has a deep inclusive spiritual background.