Live into embodied kinship, and foster ease, creativity and community.
InterPlay Body Wisdom Tools Online
Unlock the Wisdom of Your Body with a lens for our Kinship with all of Earth's beings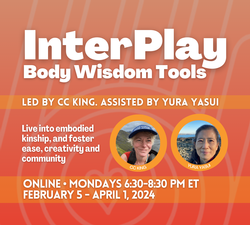 Online, ONLINE
Mondays 6:30-8:30 pm ET
February 5 - April 1, 2024
Explore the eight
Body Wisdom Tools
of the InterPlay system!
Experience the power of connection
through time and space as you play from your spot on our Earth with an online community of wise and playful humans.
Dive into the InterPlay tools to access embodied abundance in your life,
and foster ease, creativity and connection to our wide communities. Learn tools to support you in having more of what nourishes you and our world. Play with InterPlay forms of movement, voice, story, stillness and connection.
We will delve into InterPlay's 8 Body Wisdom Tools with a lens for our interdependent Kinship with all of Earth's beings. We'll notice how the tools nurture our capacity to
stay engaged and afloat, with compassion, as we navigate living and loving in the midst of the climate crisis.
Our online format will offer us spaciousness
for listening to our bodies, witnessing each other, choosing how much or how little to take in, noticing where our focus goes, and again and again, what feels nurturing for our Physicality of Grace.
Interested in diving deeper into the
InterPlay philosophy?
You may take this course as a stand-alone experience or as a refresher if you have previously participated in the Life Practice Program or a Secrets of InterPlay and want to play with the Body Wisdom Tools of InterPlay in a fresh new way.
Meeting dates/times:
Mondays 6:30-8:30 pm ET
(3:30 PT, 4:30 MT, 5:30 CT, Tuesday am in Australia)
February 5, 12, 26 (no class 2/19)
March 4, 11, 18, 25
April 1
This course can be an element of the
Self-Paced Life Practice Program
and is designed for people who need more flexibility to complete the components of the Life Practice Program. If you enroll in this course, the cost will be applied to the tuition for the whole Life Practice Program.
Financial Assistance
Diversity is a great gift in the InterPlay experience. Based on our commitment to Racial Equity and Transformation (read our statement here) and our understanding of other structural and personal inequalities that exist, Body Wisdom is committed to making our programs financially accessible.

Financial considerations need not be a barrier to your participation. Financial support and flexible payment plans are available. Please email info@interplay.org (or call 510/465-2797), or feel free to speak to one of the leaders of this program.


Continuing Education Credit
Up to 16 CE credits for various healthcare and allied healthcare professions are available for those practicing throughout the U.S. and for educators only practicing in Illinois. CE pre-registration is required before the start of your event. Email Jane Siarny directly at interplaychicago@sbcglobal.net to APPLY for CEUs. There is a charge of $25-$40 per program. CEUs are offered through Continuing Education Institute of Illinois or R. Cassidy Seminars.


Cost:

$400 ($300 for repeaters) Cost included in the Self-Paced Life Practice Program tuition
Registration/Information:

Registration Questions: email office@interplay.org. For financial assistance: email info@interplay.org.

Leaders

CC King

CC is a certified InterPlay Master Leader and trainer, Boston-area coordinator and grateful mentor to Leaders in Training and divinity school students. She has been practicing the joyous unfolding of InterPlay for over 20 years and currently serves on the Body Wisdom Board and the Integrity & Innovation Council. CC is an expressive therapist, visual artist, teacher and community activist. Dedicated to inviting respectful & celebratory relations with Earth and her beings, CC designs workshops, organic sculpture and public performance. She values play with elders, Memory Cafes, cancer support and racial healing & transformation. Her background includes nonprofit management, art and family therapy, trauma-informed InterPlay and a life-long commitment to finding sustenance, creative activism, and joyful reverence in the natural world.

Yura Yasui

InterPlay and I (by way of self-introduction)

First, InterPlay was a special time for expansive joy. One day, I followed the leading to drop the palm-to-palm connection with a playmate who was standing at the diagonal corner of the room, and we were able to find it again when invited to do so. Palm-to-palm, body-to-body connection exists.

A few years later, I was living in an InterPlay desert. In one of the first online InterPlay classes, unexpectedly, an overwhelming feeling of grief about witnessing and being part of institutional racism surfaced in me. It lives in my body. I live with it. It guides my choices and actions.

During the pandemic isolation in a different location, in an online play, a playmate asked for a dance on behalf of the tropical rainforest that she worked on. In my dance, the rainforest was in my elbow, and I recognized it as I recognized pain in my elbow. My body ails when another being is in ailment.

The dimensions of "me" are unfathomable. My being's boundary is obscure. Through InterPlay, I peek in and out at a world that may be within or outside myself. I live in fullness as I enter the universe of mystery that includes this unknown world.