Finish the weekend with ease
Sunday Night Play Group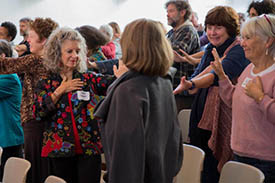 Minneapolis, MN
on-going group Sundays 7 - 9 PM
Join us each Sunday night for play group. We play with all the forms, experiment, and support the Group Body we develop together. Doors open at 7:00. Warm-up starts at around 7:10.
Cost:

$10-$20 (no one turned away for lack of funds)
Registration/Information:

If you have questions, contact Celia Swanson 612-385-9495

Venue
Oliver Dance Studio (no sign out front)
#16 East 27th street
Minneapolis, MN
This is a Condo on the corner of 1st Ave South. Come to the front door and ring the studio bell. On street parking is available.
Leaders
Celia Swanson
Hi! I am one of the many wonderful leaders for the Twin Cities' InterPlay community. You will find me at most of the PlayGroups happening, and am the usual leader in our Sunday night group, and share leadership on Wednesday mornings
I am a wildly happy, playful and energetic person, with much to offer anyone who wants to enter into a spirit of creative play with me!
I am also available to teach specialized workshops and courses, to provide ceremonial services, and to offer coaching in personalized sessions using InterPlay, including:
Life Coaching I help you figure out ways to move past the things that get in your way of what it is you want.)
Creative Writing
InterPlay singing and music making
InterPlay storytelling/Big Body Stories
Developing your artistic spirit (especially watercolor painting)
Spiritual development
Creative and intuitive healing, energy and body work
Positive body image practice
InterPlay performance skills
Improvised ritual and ceremony work
I can also customize any sort of workshop, class or personalized session you might want. Please contact me if you are interested in hiring me to lead a workshop, provide coaching, or to lead some ritual for your next celebration! (lipshacelia@yahoo.com) Let's PLAY!!