You know you wanna!
Wednesday Morning PlayGroup
Friends moving at the Friends Meetinghouse!
Celia Swanson
,
Spruce Krause
,
Hannah Mitchell
,
Marty Roddy
,
Heather Baradan
, and
Barbra Wiener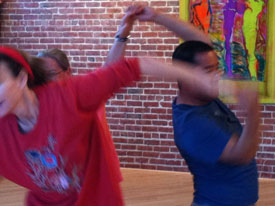 St. Paul, MN
Wednesdays on-going 10:00 a.m.-12:00 noon
Sustain your energy in the middle of the week with this dynamic, fun group of Players! We explore the forms in depth, experimenting and refining our Play. Juicy community!! We are lucky to be at the Friends Meetinghouse, and hope you will join us in that lovely, airy, sunny, spacious space. Doors open right at 10, or a couple of minutes before. Warm-up starts right at 10:15.
Cost:

$10-$20 donation suggested (no one turned away for lack of funds)
Registration/Information:

Just show up! For info, contact any of the leaders. Contact info is below.

Venue
Twin Cities Friends Meetinghouse
1725 Grand Ave
St. Paul, MN 55115
Enter the side door (not the one on the porch). Park on street. The meeting room is on the first floor.