Wing & A Prayer Pittsburgh Players celebrate Black History Month
Amandla!! A Celebration of African Arts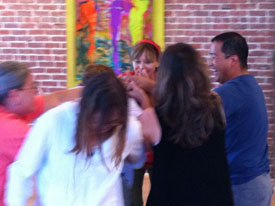 McKeesport, PA
Saturday Feb. 24th Matinee 12 noon
InterPlay is the integrating tool as Masankho Banda returns to Pittsburgh to lead the intergenerational, multicultural InterPlay performance troupe, Wing & A Prayer Pittsburgh Players in five unique performances to celebrate Black History Month.
Sponsored by the Office of Diversity at University of Pittsburgh Medical Center (UPMC), this celebration of African Art and Culture will take audience members on a fascinating journey from the continent of Africa, through the Diaspora in the Caribbean to the African experience in North America. Performances will include African Dance, Drumming, Storytelling and Song, the principles of Kwanzaa, and InterPlay forms and practices.
InterPlay is an improvised discipline that ensures that each performance will be unique and wonderful.
Artists joining Masankho and co-artistic director, Sheila Collins include:
Karama Sadaka, poet/spoken word artist from New Orleans
Gwyne Dismukes, author and Kwanzaa authority from Nashville
Marquetta Dupree, African dancer
Laveria Bogan, storyteller from Texas
Rebecca Estes, dancer from Texas
Ed Haggard, African drummer from Nashville
and the Wing & A Prayer Pittsburgh Players
Wing & A Prayer Pittsburgh Players is a local InterPlay performance company, including: Sheila Collins, Andrea Scheve, Elizabeth Downey, Pam Meadowcroft, Jim Holland, Toni McClendon, Gurney Bolster, Richard Citrin, LaVerne Baker Hotep, and special guests Legacy Arts Project dancers and the InterPlay troupe from the Sarah Heinz House.
Cost:

Free and Open to the Public
Registration/Information:

More info, contact Sheila Collins at 412-223-2536

Venue
UPMC McKeesport - Kelly Conference Center
1500 5th Ave.
McKeesport, PA 15132
From Oakland or downtown:
Take the Parkway (376) east toward Monroeville
Exit at #7 Swissdale.
Follow signs and stay on Monangahela Ave.
Turn right on Braddock Ave.
Continue on Green Belt for one mile.
Turn left to stay on the Green Belt.
Take a right to merge onto 5th Ave.
Go 3 miles.
When the road splits, follow the left hand road (just after the cemetery).
You will see the hospital on your left.
Turn left on Evans St. drive past the parking structure and turn left again.
The Kelly Building will be in front of you.
The Kelly Conference Center is just to the right as you come into the Kelly building.
Drive back around to the entrance of the parking structure which you just passed on Evans.
You may park in visitor or patient parking (not handicap or valet).
Parking is usually about $2.50 but sometimes on weekends there is no attendant collecting.
Wing & A Prayer Pittsburgh Players
Founded in 2006 by Sheila Collins this InterPlay-based troupe includes: Richard Citrin, Lynn Coghill, Amy Couch, Jim Holland, LaVerne Dasrnell, (formerly Baker Hotep). Lois "Toni" McClendon, Pam Meadowcroft, Gail Ransom, Neil Straub, Laurie Tarter, and musicians, Jesse Landis-Eigsti and Elizabeth "Jett" Downing
Leaders
Masankho Banda
Masankho is a multi - disciplinary Performing Artist, Certified InterPlay Leader, Educator and PeaceBuilder. He brings many unique perspectives to his work around the world. He learned the fine arts of storytelling and dance from his Malawian culture spending many long days and nights listening to stories and dancing to music that captivated his mind, shaped his being, nourished his soul and strengthened his spirit. Using performing arts Masankho motivates and inspires people of all ages to work together to bring about peace, social justice and cultural understanding. In 1997, he started UCanDanc—African Healing Arts to bring his passion for dance and storytelling to communities around the world. Masankho has been a Certified InterPlay Leader since 1999.
Masankho can also be reached at these phone numbers: +265 99 255 5338 or 88 113 8655 (available on Whatsapp / FaceTime)
Also: Skype : kamsisi
Facebook / Twitter: storytelling4u