Embodiment, Fun, Release, Community
InterPlay For Men (drop-in)
Jonathan Leavy
,
Connors John McConville
,
Amos Alan Lans
,
John Diller
,
Olaf Elander
, and
Randy Newswanger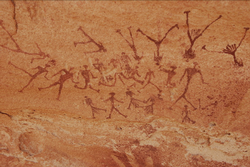 ONLINE
on-going drop-in class Thursdays • 7-8:30 pm PT
NOTE: We are meeting virtually for the time being (join us from anywhere!). Video link and details available in our weekly email or reach out to Amos or John via the links below.
Join us as we play, express, and create together, finding ways to connect and have fun with each others at a distance. Invite your whole self to join in with stories, movement, song, and more. Sometimes the screens fade away and it's just us, gathered. Amos, Connors, John, Jonathan, Olaf, and others share and rotate leadership.

Everyone is welcome on any Thursday, but the 2nd and 4th Thursdays each month are themed, and on a Thursday near the Solstice & Equinox we invite all genders to join us (see separate postings). Second Thursdays each month are special nights for men new to InterPlay.

On the 4th Thursday of each month our men's class will explore themes related to diversity, equity, and inclusion. Using questions from the book Waking Up White by Debbie Irving, we'll unmask how our upbringing (in our families and communities of origin) set us up to see the world's vast variety of people through a particular lens that may limit our capacity to build close relationships with folks from other races and cultures than our own.

We'll use InterPlay story-telling forms to share our own backgrounds and then exform/release pent-up tensions from our body-spirits through a variety of movements.

By the end of each class, we may feel more connected with one another, having had a chance to show more of ourselves, and witnessing other guys' struggles, joys, and leaps of faith. Men of all races, ethnic and class backgrounds, mobilities, and orientations are welcome to participate.

This is one of many ongoing drop-in classes offered online each week. Now you can do InterPlay whenever you choose from leaders around the country!

Engage mind, body, heart, and spirit in an affirming, fun-loving practice with great teachers. Get yourself running on "all cylinders!"

It's easy to learn the simple forms of InterPlay. If you are new you can catch on as you go. Anyone can do it!
Make new friends! InterPlay classes create instant community.
Learn body wisdom tricks and tools to make life easier.
No experience necessary! InterPlay is accessible to people of all ages and abilities.
All of the weekly drop-in classes offered are rooted in the basics of InterPlay but vary slightly based on the gifts of the teacher. Find just the right class for you! You can join a class at any point in the season, and take different classes as you choose.
One day I danced,
my people all around me,
was I lonely once?
-- improvised haiku from Thursday Men's InterPlay
Cost:

$15 per class • $48 for 4 classes (save $12!) • $90 for 10 classes (save $60!) No one turned away for lack of funds.
Registration/Information:

Please get the ongoing video call information from Amos or John or see our weekly email. Questions? Email Amos Lans by clicking the link below.