Embodiment, Fun, Release, Community
InterPlay For Men (drop-in)
Jonathan Leavy
,
Amos Alan Lans
,
John Diller
, and
Edward Joy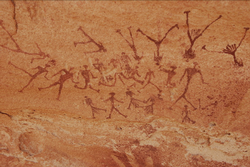 Oakland, CA
on-going drop-in class Thursdays • 7-8:30 pm PT
UPDATE: We have resumed in-person meetings for vaccinated and boosted men If you are new to the group, please bring your vaccination card. Masks are also required for the full duration of the class and must be KN95 or N95 masks. If you have questions, please reach out to Amos or John via the links below.
Join us as we play, express, create, connect, and have fun with each other. Invite your whole self to join in with stories, movement, song, and more. Amos, Connors, Edward, John, and Jonathan rotate leadership.

Everyone is welcome on any Thursday, but the 2nd and 4th Thursdays each month are themed, and on a Thursday near the Solstice & Equinox we invite all genders to join us (see separate postings). Second Thursdays each month are special nights for men new to InterPlay.

On the 4th Thursday of each month our men's class will explore themes related to diversity, equity, and inclusion. Using questions from the InterPlay Racial Equity and Transformation framework and the book Waking Up White by Debbie Irving, we'll unmask how our upbringing (in our families and communities of origin) set us up to see the world's vast variety of people through a particular lens that may limit our capacity to build close relationships with folks from other races and cultures than our own.

We'll use InterPlay story-telling forms to share our own backgrounds and then exform/release pent-up tensions from our body-spirits through a variety of movements.

By the end of each class, we may feel more connected with one another, having had a chance to show more of ourselves, and witnessing other guys' struggles, joys, and leaps of faith. Men of all races, ethnic and class backgrounds, mobilities, and orientations are welcome to participate.

This is one of many ongoing drop-in classes offered in-person and online each week. Now you can do InterPlay whenever you choose from leaders around the country!

Engage mind, body, heart, and spirit in an affirming, fun-loving practice with great teachers. Get yourself running on "all cylinders!"

It's easy to learn the simple forms of InterPlay. If you are new you can catch on as you go. Anyone can do it!
Make new friends! InterPlay classes create instant community.
Learn body wisdom tricks and tools to make life easier.
No experience necessary! InterPlay is accessible to people of all ages and abilities.
All of the weekly drop-in classes offered are rooted in the basics of InterPlay but vary slightly based on the gifts of the teacher. Find just the right class for you! You can join a class at any point in the season, and take different classes as you choose.
One day I danced,
my people all around me--
was I lonely once?
-- improvised haiku from Thursday Men's InterPlay
Cost:

$15 per class • $48 for 4 classes (save $12!) • $90 for 10 classes (save $60!) No one turned away for lack of funds.
Registration/Information:

Just show up! Questions? Email Amos or John by clicking the link below.

Venue
InterPlayce
2273 Telegraph Avenue (at 23rd St.)
Oakland, CA 94612
InterPlayce is the center of the InterPlay universe. The offices for Body Wisdom, Inc. are also located here. The building is at the corner of 23rd and Telegraph, one block north of West Grand. It is just a few blocks from the 19th Street Downtown Oakland BART station, and on several convenient bus lines. On-street parking is always available at night and metered during the day. It is also easily accessible by several of the major freeways.
Click here for a map.
Leaders
Jonathan Leavy
Jonathan Leavy brings a rich and varied bundle of experience to his InterPlay leading. Originally from Colorado, Jonathan used his music major from Colorado State University and performed in and around Florida and New York City for 12 years. From off-broadway to cruise ships, and from dinner theaters to theme parks, Jonathan has found joy through diverse musical theater opportunities. A call to ministry brought Jonathan to Pacific School of Religion in 1998 where he focused on spirituality and the arts. Jonathan has completed the InterPlay Leadership Program and is a long-time member of WING IT! Performance Ensemble and a leader in the InterPlay community, teaching classes and retreats with a focus on the voice and performing.
Amos Alan Lans
Amos Alan Lans likes to tell folks, "I became a dancer in my 50's, thanks to InterPlay!" Amos is one of the three co-leaders of the Thursday evening men's drop-in class. He loves introducing InterPlay to groups of men, especially gay men, especially older gay men who are learning new ways of enjoying being in their ageing bodies as well as playful ways of connecting with other guys. Letting stories emerge from movement is one of Amos' favorite InterPlay activities. For 20+ years, Amos set up and taught in public school gardening programs. He now teaches the joys of composting, gardening, and healthy eating to at-risk urban youth in North Oakland's Dover Street Edible Park, near his home on 61st Street.
John Diller
John Diller, MA in Education, is a certified InterPlay leader and has been leading InterPlay workshops and retreats for more than 10 years. He found his way to InterPlay via a winding road that includes poetry, improv, Permaculture, storytelling, the great outdoors, Buddhist philosophy, bicycling, and eight years of teaching high school theater. He has co-led the Thursday evening men's InterPlay class in Oakland for years and works by day at a management consulting company. John thanks InterPlay for an increasingly embodied and nourishing life and for the opportunity to help others use InterPlay to have more fun, connect, dive deep, and so much more.