Expand the possibilities of your life!
The Secrets of InterPlay 2019
Change Your Life ~ Change Your World!
Natalie Abdou
and
Ginny Going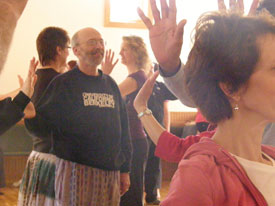 Raleigh, NC
3 days October 24-26, 2019
Thursday 9:30 am through Saturday 3:30 pm
Learn how you can use the tools and ideas of InterPlay to unlock the wisdom of your body. Get your body, mind, heart, and spirit all on the same page. Learn about yourself through connection and community. Create more ease and fun in your life.
This multiple-day event will give you direct experience in many aspects of the InterPlay system. It is also an important element of the
Raleigh/Online InterPlay Life Practice Program
which will be offered in Raleigh, NC and online from October, 2019 through March 2020. (Flyer has schedule details for the Secrets weekend.)
Reduced Tuition Options
Anyone who has previously completed the Secrets of InterPlay may repeat it at a reduced tuition. Based on InterPlay's commitments to build transformational communities of practice, people of color, millennials, full-time artist-activists, and undergraduate and graduate/professional students are eligible for the $300 repeaters rate.
Continuing Education Credit
18 CE credits for various healthcare and allied healthcare professions are available for those practicing throughout the U.S. and for educators only practicing in Illinois.
CE pre-registration is required at least 2 weeks before the start of your event.
Notify the Body Wisdom office (510) 465-2797 at the time of registration that you are requesting CEUs. A fee of $25 per program will be due at the time you register. CEUs are offered through
Continuing Education Institute of Illinois.
Cost:

$400 ($300 for repeaters) Cost included in full Life Practice Program tuition
Registration/Information:

Body Wisdom 510-465-2797, info@interplay.org;
Or local contact (for info only): Ginny Going, 919-412-3851, ginny.going@gmail.com

Leaders

Natalie Abdou

I have been on a life-long journey of curiosity and creativity, and have spent the last 10+ years connecting and collaborating with diverse communities, in North America and the Middle East, by co-creating learning environments that are founded upon shared values of diversity, love, respect and self-empowerment - embracing a vision of solidarity, social justice and change from the inside-out. I weave in elements of embodied wisdom, Theatre of the Oppressed and other visual/movement/story arts into my practice and see/feel the arts as portals for personal and collective transformation, providing space for our souls to dance, breathe, heal and unleash the deep wisdom that resides within. That is why my heart exploded with resonance and childlike joy when I came into connection with Interplay in 2015 - since then I have had the gift of mentorship and leadership within the Arts & Social Change program, of mentoring alongside Cathy Ann in the Life Practice Program, and co-creating with Interplay POC community as we explore and better understand the ways in which this diverse unique group body plays. I feel deep gratitude for the way in which InterPlay has danced its way into my life bringing with it so many quirks and magic.

Ginny Going

As a recovering serious person, I consider InterPlay my 12-step program and my life practice for having more ease and grace. I've been InterPlaying for 27 years and have watched the blooming and spread of InterPlay all over the world with gratefulness and delight.

For the past 13 years I've been immersed in the development and growth of the Leader Training Program and currently serve as the program coordinator. I love offering people the "big body" tools of InterPlay for telling their stories, especially people on the margins of our communities. I am also passionate about embodied spirituality, engaging people in prayer and worship forms that include and honor the body. It has been an amazing experience to participate in and teach InterPlay in many places around the world.

Currently the Leader Training Program is being reshaped to integrate Racial Equity and Transformation into all aspects of InterPlay leader training. This is truly an exciting and exhilerating time to be part of the world-wide community of InterPlay!